Digital twin for future-proof manufacturing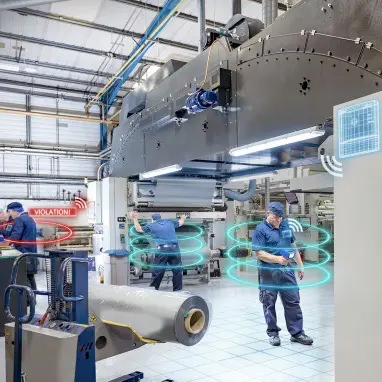 Siemens has developed a real-time locating system for social distancing in the workplace, which is essential during the COVID-19 pandemic. Companies can simulate and manage the potential risks to their employees while increasing the productivity of their plants.
The Simatic Real-Time Locating System (RTLS) from Siemens enables companies to measure, monitor and maintain the distance between employees. This allows companies to quickly and efficiently monitor how employees interact with one another, with the production line and with the plant set-up.
Through the interaction of wearable RTLS transponders with infrastructure devices, the movement of employees in all clearly defined areas can be tracked, while observing all applicable data protection regulations. The additional SieTrace software from Siemens processes the location data from the transponders using an algorithm and determines the distances between employees.
If the social distance falls below 1.5 metres, a warning signal is sent to all the people involved via the e-link display of the transponder. This ensures that social distancing can be implemented continuously on company premises, and also means that in the event of a risk scenario those employees who could be affected are identified quickly and reliably. In addition, the real-time data provided by the Simatic RTLS can be combined with a digital twin of the real-life production environment.
Identification hotspots
In the event of an employee contracting COVID-19, companies can then determine possible interaction scenarios between employees, and possible hotspots for particular risk areas can be identified quickly and easily. The transparency provided by movement data from the Simatic RTLS can also benefit other applications in the company. For example, the intelligence acquired based on position data for the digital twin provides the company with a comprehensive overview of material flow, order information or possible problem areas for the entire company.