E-commerce sector braces itself for festive season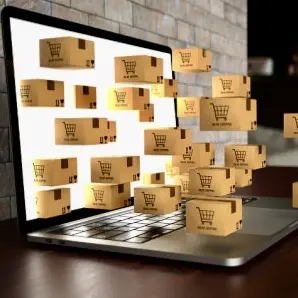 Every year, the festive season causes a significant increase in the number of online orders. Due to the ongoing coronavirus restrictions this year, however, e-tailers are bracing themselves for a 20% increase in turnover compared with the same period last year – and some even predict it will double, according to a survey by Thuiswinkel.org. Web shops and parcel delivery companies are taking extra measures to cope with the peak in demand, while consumers are being urged to order gifts well in advance.
The peak days this year are expected to be Black Friday (27 November) and Cyber Monday (30 November). "Despite the unpredictability of the future, web shops and delivery companies are doing everything in their power to make the right forecasts and preparations, such as expanding capacity and deploying extra manpower and transport capacity," says Wijnand Jongen, director of the Dutch national e-commerce association Thuiswinkel.org.
This peak will come on top of the rise in online shopping due to the coronavirus pandemic. 80% of web shops expect their annual turnover to be higher this year due to COVID-19, according to the Thuiswinkel.org survey. As a result, web shops are working flat out to dispatch all the orders and the carriers are regularly processing and delivering twice as many parcels as normal during this period.
Discounts brought forward
"There's evidence that many web shops are trying to anticipate the order peak early. As of last year, they started bringing their special offers forward, such as by offering great discounts on Singles' Day on 11 November and in the week prior to Black Friday. That not only offers extra benefits for consumers, but also prevents extra pressure on logistics," says Jongen.
He adds that, in extremely busy periods like these, it's entirely possible that a small percentage of orders aren't able to be processed in time for next-day delivery. "Our 'Be prepared – Order on time' campaign asks consumers to take this into account and order gifts well in advance," adds Jongen. The campaign started on 27 October.
PostNL
The Dutch postal service PostNL is also preparing for what could turn out to be the busiest period ever, according to Liesbeth Kaashoek, Director of Parcels & Logistics, on news website NU.nl. Before the coronavirus outbreak in the Netherlands, the company was delivering an average of 900,000 parcels daily. Since mid-March, that has risen to one million parcels a day and even touches close to one and a half million on busy days – and now the festive season is coming on top.
"During the peak period we deploy extra trucks, an extra thousand delivery drivers and we work 24/7," Kaashoek explains. "The coronavirus crisis has also taught us to work together with our customers – the web shops – to see how we can get the parcels delivered at the right time." This results in web shops starting their campaigns earlier, as mentioned above, and spreading promotional activities out as much as possible.