Decentralize production and logistics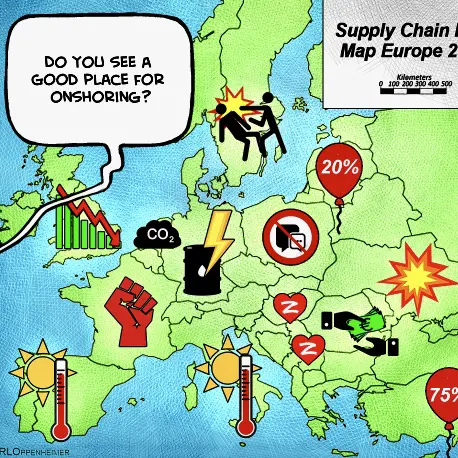 Thou shalt… test and reimagine supply chain scenarios
In recent decades, supply chains have become longer and more complex due to globalization. Access to global markets and the ability to manufacture in low-wage countries with low or no import taxes have produced supply chains that are very efficient, but not resilient. This lack of resilience has become abundantly clear in the past two years, due to the pandemic, the war in Ukraine, the energy crisis, the global geopolitical situation and the high number of production and logistics-related disruptions in supply chains.
By Patrick Haex, Managing Partner at Buck Consultants International (BCI)
The topics of resilience and decentralization of production and logistics have gained a place on the boardroom agenda. However, it is difficult to predict whether they will remain there permanently; senior management's long-term memory can be quite short in certain industries and cultures. There is always a chance that rising pressure on profitability due to high inflation, economic stagnation and the global recovery of the supply side will cause the pendulum to swing back in favour of the time-honoured tradition of cost-cutting.
Supply chain redesign
Resilience can be created in three ways: by redesigning the supply chain from a production and distribution perspective, by adapting the internal organization and by using technology. Let's focus here on supply chain redesign.
Supply chain redesign strategies include reshoring, nearshoring, friendshoring and decentralizing/regionalizing supply chains. In my view, it is better to talk about 'rightshoring': decentralizing production and logistics. The mass exodus from China as the 'factory of the world' was already underway before COVID-19 arrived. Among other things, this was due to China's soaring labour costs and deteriorating geopolitical relations, in particular with the USA. This led to 'China + N' strategies based on additional sourcing and manufacturing in countries such as Vietnam, Malaysia, Thailand and India.
A recent study conducted by Supply Chain Media and Buck Consultants International shows that as many as 60% of companies surveyed are considering bringing some of their production back to Europe or the USA (onshoring) or closer to those regions (nearshoring) over the next three years. However, less than 20% say they are bringing back the lion's share of production. Often, this measure concerns a (small) percentage of the total volume that particularly requires agility and responsiveness.
We will see decentralization not only on the production and procurement side, but also downstream. In many industries, the days of the centralized European distribution model – based on just one distribution centre for the whole of Europe – seem to be numbered. Companies will need to segment more by product/market/sales channels and operate hubs or satellites close to their markets, for example, as well as shipping directly from the factory to the end customer when it makes sense.
Duplicating production and distribution chains comes with a price tag, or rather an insurance premium. Companies with small batch sizes/low volumes tend to adopt a single-source/focused-factory concept for capacity and efficiency reasons. Duplicating such an operation increases resilience, but at a cost.
Required ecosystem
The required ecosystem is another important consideration in the supply chain footprint strategy. Several industries are concentrated in a small number of geographic clusters around the world, where companies have access to relevant knowledge, specialized suppliers and a skilled workforce. Consider, for example, the semiconductor industry and the recent initiatives by the USA and Europe to revitalize the industry in their own regions. Samsung and Intel alone have each announced plans to invest $20 billion in new factories in the USA!
Sustainability is taking on an even more important role in companies' footprint strategies. One example is the Carbon Border Adjustment mechanism, which imposes a carbon tax for specific carbon-intensive products (e.g. steel and aluminium) that are manufactured outside of Europe and then imported. This is aimed at creating a level playing field and preventing 'carbon leakage'. Another example is the German Supply Chain Act (LksG), under which companies of a certain size must audit their supply chains for compliance with universal human rights and environmental protection standards.
Under scrutiny
In conclusion, companies should frequently (i.e. at least once a year) scrutinize their global supply chains to reduce complexity and vulnerability. Regional sourcing, production and distribution ('make in region, sell in region') will continue to increase in the future.
The optimal supply chain design for your business depends on several factors. You will need to do your homework to test various supply chain scenarios and regularly imagine new ones. This calls for careful trade-offs between integral supply chain costs, service, risks, sustainability, compliance and resilience. In this venture, it is important to manage your stakeholders at board level in terms of potential risks and possible insurance premiums. It is also important to understand the tipping points from one footprint model to another, because this provides insight into those trade-off factors. So when will you make a start on your homework?
'The Sermon' in Supply Chain Movement is a speech in which the speaker expresses the message he or she has about the field of supply chain management. A sermon aims to teach, to encourage, to correct, so that the recipients may grow in their faith and become strong, mature supply chain professionals.