Christoph Häusler, Reckitt Benckiser: "COVID has proven how resilient our business is"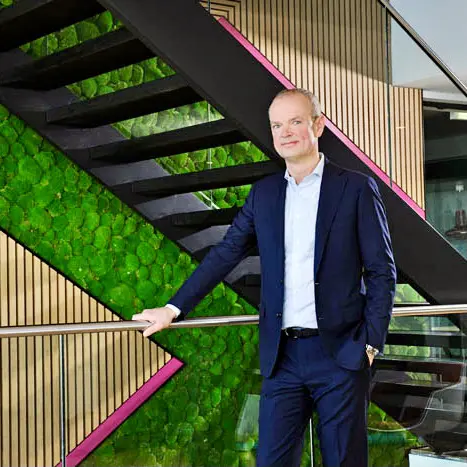 In 2017 Christoph Häusler had the opportunity to design an integrated end-to-end supply chain from scratch. He had a clear mission: Support and enable a fast-moving, home hygiene business and rejuvenate profitable growth. As executive vice president for Reckitt Benckiser's home hygiene division he has led the transformation of the supply chain which has put power back into the markets and allowed profit to be pumped into innovation and sustainability. For someone who believes that the business is done in the market, COVID has grounded him in Amsterdam for nearly 12 months. Nevertheless, in a turbulent year the company has regained market leadership, he says. "COVID has proven how resilient and responsible our business is. During the last 12 months our priority has been to keep everyone safe but also to ensure that we deliver even more than promised to our customers."
By Martijn Lofvers, Oskar Verkamman and Helen Armstrong
Reckitt Benckiser has a reputation for being upbeat and entrepreneurial. So when flat growth and key brand stagnation shocked the market in the middle of the last decade it was time for new measures. In 2017, the British-based multinational took the decision to split its portfolio of renowned household brands, such as Dettol, Lysol, Durex and Finish, into separate Health and Hygiene divisions. The clear task was to revive sales by mean of a sustainable business model.
Christoph Häusler was appointed to lead the rejuvenation of the home hygiene supply chain. "We wanted to put energy back into the front-line, the markets, and leverage benefits across all departments. We transformed supply into a truly integrated end-to-end, business-enabling organization. The aim was to run the business as efficiently as possible and then reinvest the gains in innovation and sustainability," says the executive vice president supply for Hygiene.
"Our growth at that time was stagnating and our target was 5+%, which we almost achieved before COVID. Now it's way beyond our initial imagination in double digits, with a revenue of around 7 bln Euro expected." The task now is to ensure that supply continues to drive the current productivity journey.
Firstly, how did you get involved in supply chain?
"I studied industrial (mechanical) engineering. However, during a few internships with CPG and FMCG companies, I was fascinated to see how all value points connect together to create value and joy for the consumer. I enjoyed learning and connecting with people, talking to customers and moving beyond the epi-centre of the factory.
In 1995 I joined the P&G beverage business, based in Hamburg, and after seven years moved to the pharmaceutical division at its headquarters in Cincinnati. It was the company powerhouse but by 2004 I was keen to move into a less corporate-heavy business. I met Klaus Jacobs, of Barry Callebaut, who was looking to rejuvenate the consumer business in Europe. I was there for more than three years and then had the opportunity to join Reckitt Benckiser in 2007, taking on several roles in supply chain before starting in my new position as EVP for Hygiene Supply. I like the very entrepreneurial spirit and mixed culture here. Reckitt Benckiser is fast-moving and I love the positive can-do energy."
What is your responsibility now?
"I'm responsible for everything that costs money and can go wrong – just joking. And, on the other hand, for everything that is strategic, fascinating and magic!
I am part of the executive leadership team for Hygiene and run the end-to-end supply chain from innovation, sourcing and procurement, manufacturing, quality, engineering, suppliers, to relationships with our customers. The organization has 10,000+ permanent employees plus several thousand through our partners. About 80% of manufacturing takes place in our 20 factories globally and we have over 70 distribution centres. Our head office is in Amsterdam but, apart from procurement, for reasons of scale, HR and legal, the rest of the business is organized in the markets within our five global areas." … … …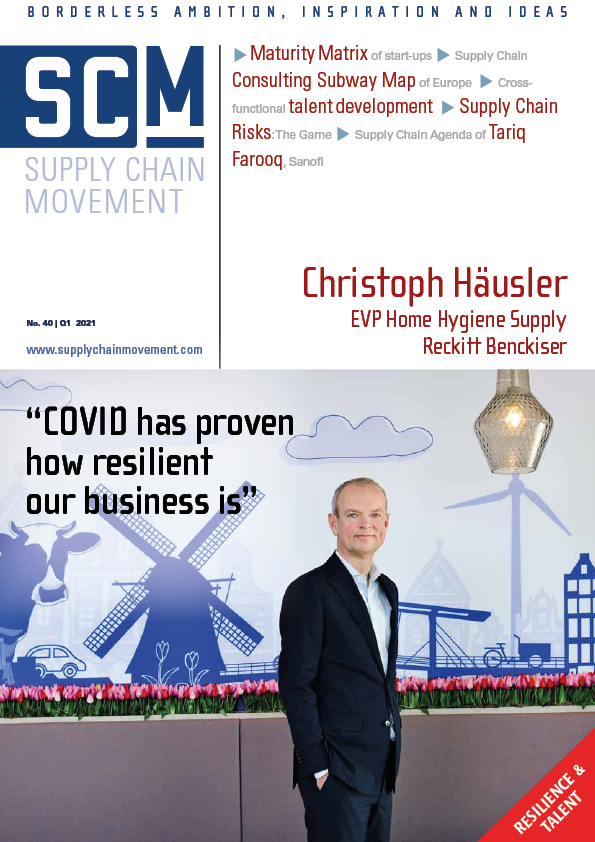 Want to read more about Christoph Häusler?
This article was first published in Supply Chain Movement 40 | Q1 – 2021