Refresco receives recognition for optimization of European transport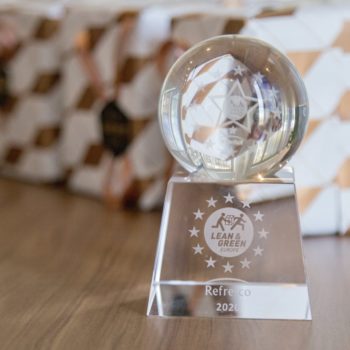 Refresco, an independent bottler of water, soft drinks and juices, has been awarded the first-ever Lean & Green Star for its transport operations in its European business. The award is in recognition of the company's reduced transport emissions, which are 20% lower than the industry benchmark.
Refresco has reduced emissions by implementing a range of optimization programmes across its European operation since 2018. The projects included driving with fully loaded trucks as much as possible – including for cross-border traffic – and entering into strategic partnerships with transport companies and suppliers to optimize transport efficiency. Additionally, the company optimized its production footprint, thus reducing the distance from the production location to customer sites. All of these initiatives were aimed at increasing transport efficiency and reducing transport emissions.
Concrete examples include the introduction by Refresco Italy of a longer lightweight truck with 8% more loading capacity, and the location of two new external warehouses closer to the plants. Both initiatives contribute to a permanent and sizable reduction of transport emissions.
Short transport lines Refresco
"While there are many other elements involved, the way we handle transportation has a large impact on the sustainability of our business," stated Refresco Group Sustainability Manager Minna Lyijynen. "Thanks to our pan-European manufacturing footprint, we are able to supply with short transport lines and provide our customers the proximity they need. Our aim is, together with our carriers and suppliers, optimal transport efficiency and minimum impact on the environment."
Nico Anten, Executive Chairman of Lean & Green Europe, added: "New technologies might help facilitate more sustainable transport, but the most important element in success is a company's dedication to making it happen. This first-ever European Lean & Green Star is well-deserved and reflects the emphasis Refresco places on making transport more sustainable."