Feasibility study of hyperloop network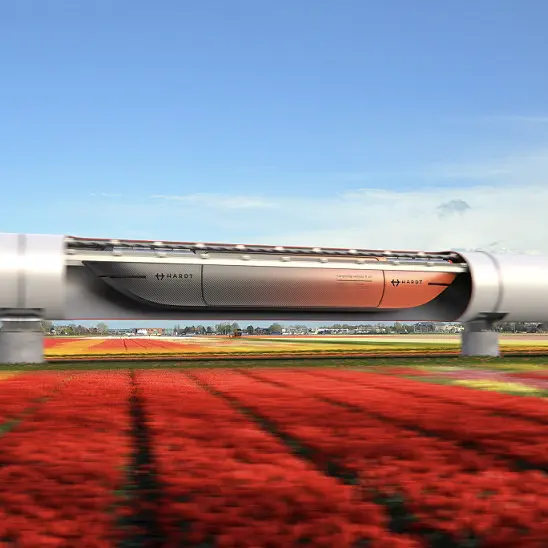 A study is underway to explore the feasibility of a hyperloop network for freight in the Netherlands. A pilot route in the Randstad conurbation is intended to mark the first step towards a pan-European emission-free network. The tube-based system could make it possible to transport goods in capsules across Europe in just a few hours and potentially around the world in a matter of days.
Last week, government agencies and businesses involved in the Netherlands' major export industries signed a covenant agreeing to work together to explore the possibilities for a cargo loop between major hubs in the provinces of North Holland and South Holland. They are keen to identify the problems and offer solutions that could also be relevant for urban areas elsewhere in Europe. It is hoped that this will pave the way for investments in a Europe-wide hyperloop infrastructure.
The focus is on the busy freight corridor between the regions of Rotterdam and Amsterdam. Connecting producers, traders, buyers and logistics hubs along this corridor with a hyperloop could make it possible to drastically reduce the use of existing modes of freight transport and to significantly increase delivery speed and reliability. Hence, the cargo loop could ease congestion problems and save costs on maintaining the existing infrastructure, plus it could help to reduce carbon emissions in the Randstad region.
Hyperloop: the future of transport
The hyperloop concept is based on a low-pressure tube of approximately 2 metres in diameter that can be constructed either above or below ground. Capsules are propelled through the tube by a combination of magnetic levitation and electric motors at speeds of up to 700km/h. According to the Hyperloop Development Program (HDP), this technology holds the key to sustainable transport in the future – and not just for freight but also, eventually, for passengers. The advantage of starting with a cargo loop is that it requires smaller-scale infrastructure than a passenger system, plus it involves fewer safety issues.
Major benefits have already been identified, particularly for perishable goods such as fresh produce and ornamental plants and flowers. Rik Roeske, project manager of the cargo hyperloop, comments: "This partnership is an important step in the development of this new modality, which will enable us to deliver fresher, faster and more frequently, and at lower prices. We will be able to compete with road freight in terms of speed while sending smaller and more frequent shipments. This isn't just relevant for Dutch businesses, of course. Many other markets, such as e-commerce and pharma worldwide, would also benefit from such a network."
Game-changer for the transport sector
"The hyperloop is a game-changer for the transport sector, just like the container was in the 1960s," says Walther Ploos van Amstel, an economist and lecturer in urban logistics at Amsterdam University of Applied Sciences. "It will change the competitiveness of regions. The Netherlands, as the logistics mainport of Europe, must respond to this now."