Garvis advocates more speed in S&OP decisions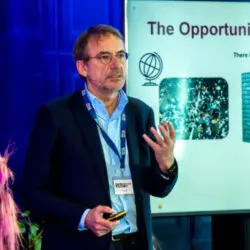 There is currently so much variability and uncertainty in supply chains that traditional S&OP processes have become too slow, believes Piet Buyck, founder and CEO of software vendor Garvis. In this context, he advocated a new language for S&OP at Supply Chain Media's S&OP Selection Day on 16 November.
"S&OP evolved in a more manageable world, in which companies had time to steadily define their strategic plans and translate them into operational processes. But those days are behind us. Change is happening so fast now that S&OP needs a new language," Buyck said.
And Belgium's Garvis speaks that language, according to him. What sets the company apart is that, unlike other systems, its artificial intelligence-based forecasting tools can be implemented very quickly. "We can deliver a forecast within a day, and customers are often fully live after just a few weeks."
Development of the north star
Buyck explained that Garvis solutions provide insight into the position of a company's 'north star': the metric that measures what is most important to customers. "There are constant changes going on: disruptions, events, promotions. Our software quickly maps these changes and reveals the best plan for anticipating them so that your north star remains high."
One crucial question relates to the planners' scope of influence, he said: "You can ask a salesperson for a sales forecast, but that's pointless if data mining can produce a much better forecast. In that case you shouldn't argue, because that only takes up precious time and doesn't benefit your north star."
Did you miss S&OP Selection Day 2022?
Click here to read all the articles about S&OP Selection Day 2022. If you would rather see the sessions for yourself, you can watch the recording of this session here or download the presentation slides below.
Download:
Slide deck presentation S&OP Selection Day | Garvis