Invest in resilient planning… before it's too late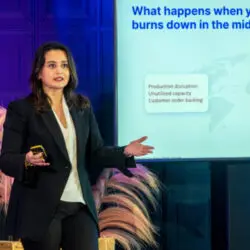 "What do you do if a container ship carrying the components you need for your production process catches fire in the middle of the ocean?" This thought-provoking question is how Melis Teksan, Supply Chain Services Director at software vendor Icron, kicked off her presentation at Supply Chain Media's S&OP Selection Day.
Teksan's question was inspired by a real-life incident faced by one of Icron's customers, a European TV manufacturer. Ordering new components wasn't an option, because lead times were so long that the type of TV for which they were intended would already be out of production by the time they arrived.
Fortunately, the manufacturer was working with Icron's planning solution. "This had analysed the impact of the disruption on production and stock planning within an hour of the incident. Within two hours, it had already found an alternative scenario that would enable the company to still meet as much of the demand as possible."
Identifying supply chain risks in advance
Teksan's message was that what happened to this high-tech manufacturer can also happen to other companies, because supply chain disruptions have become the norm. To prepare for them, it is important to analyse the supply chain risks in advance and identify scenarios to deal with them.
Teksan: "How much risk are you willing to take and what precautions are you going to put in place for this? One thing is certain: if you do nothing, you make yourself extremely vulnerable and disruptions can rapidly lead to cashflow problems. In the worst case, the very existence of your company could be at risk." That's a risk that no one wants to take, according to Teksan, which is why she stressed the importance of investing in resilient planning now.
Did you miss S&OP Selection Day 2022?
Click here to read all the articles about S&OP Selection Day 2022. If you would rather see the sessions for yourself, you can watch the recording of this session here or download the presentation slides below.
Download:
Slide deck presentation S&OP Selection Day | ICRON