Employees regard warehouses as a hotbed for COVID-19 transmission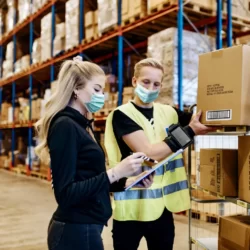 Warehouses are a hotbed for coronavirus transmission, according to 39% of people working in the logistics sector. This is one of the findings from a survey conducted by workforce management specialist Protime among more than 200 logistics employees in the Netherlands. Moreover, half of the employees say that it is very difficult to stick to the basic COVID-19 rules in a warehouse environment.
It therefore comes as no surprise that one in three employees report that the basic rules are not correctly applied within their workplace. Nevertheless, many workers hope that their colleagues will (continue to) comply with the measures in the future. Among the logistics workers surveyed, 56% are more focused on keeping their distance from their colleagues than they were before the pandemic, and a similar number (54%) now expect colleagues to stay at home if they have a cold.
COVID-19 has changed the logistics sector
The findings show that COVID-19 has changed the logistics industry, and 63% of logistics workers expect this change to be permanent. According to the respondents, the main consequences of the pandemic have been a heavier workload (38%), an intensified worker shortage (36%) and lower job satisfaction (19%). Notably, 23% of the respondents do not indicate any difference with the pre-pandemic situation.
"The logistics sector has not escaped the labour shortage, which makes it even more important to pay attention to those workers who are available. Employees must feel safe in the workplace. Compliance with the basic coronavirus rules, such as social distancing, is an important factor in this," says Lucas Polman, director of Protime's activities in the Netherlands.
Responsibility
In Polman's opinion, an organization and its workforce share the responsibility for this. "As an employee, it's important to stick to the basic rules and to challenge colleagues if they fail to do so. As an organization, it's important to provide a safe environment and to communicate the rules clearly. This way, everyone helps to ensure that warehouses don't become a hotbed for COVID-19 transmission."