Delays and uncertainty force businesses to reassess their transport choices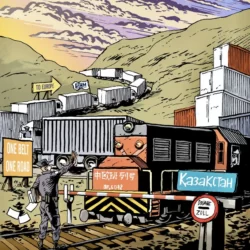 Faced with sky-high tariffs, port closures and congestion at container terminals, many shippers decided to transport their goods from China by train instead of by boat. However, the New Silk Road infrastructure couldn't cope with the sudden influx of containers, resulting in weeks of delays. Some companies are now reverting to sea freight, even though the problems on the oceans are far from resolved. For others, road freight has suddenly become an attractive option.
Fashion brand Ydence used the New Silk Road for the first time in early 2020, and the company's new clothing collection arrived in Amsterdam within three weeks of leaving the Chinese factories. Things ran smoothly for five more collections; the train from China proved an attractive and reliable mode of transport – cheaper than air freight and faster than sea freight.
But on the seventh occasion, things went horribly wrong and the Autumn 2021 collection arrived in the Netherlands seven weeks late – which is a severe delay for a fashion brand that releases a new collection four times a year. "Fortunately, we've built up a very loyal fan base over the past ten years," says Lara de Graaf, Founder and Managing Director of Ydence. "Our fans were willing to wait and kept asking for the new collection in stores. As a result, retailers also kept asking us for the clothes. That has been our salvation. If we'd only just started out, no one would have wanted us after a seven-week wait. That would have meant the end of Ydence."
Ydence's underlying business model allows little room for supply chain delays. De Graaf's design process for a new collection starts just three months before it hits the stores. The frontrunners in fast fashion have an even faster turnaround, but for most other fashion brands it's the norm to have a collection ready more than six months before distribution. … … …
Want to read more?
The full 6-page article is exclusively available for subscribers. If you don't have a subscription yet, get one now >> https://shop.supplychainmedia.eu/product/digital-subscription/