COVID-19 provides boost for New Silk Road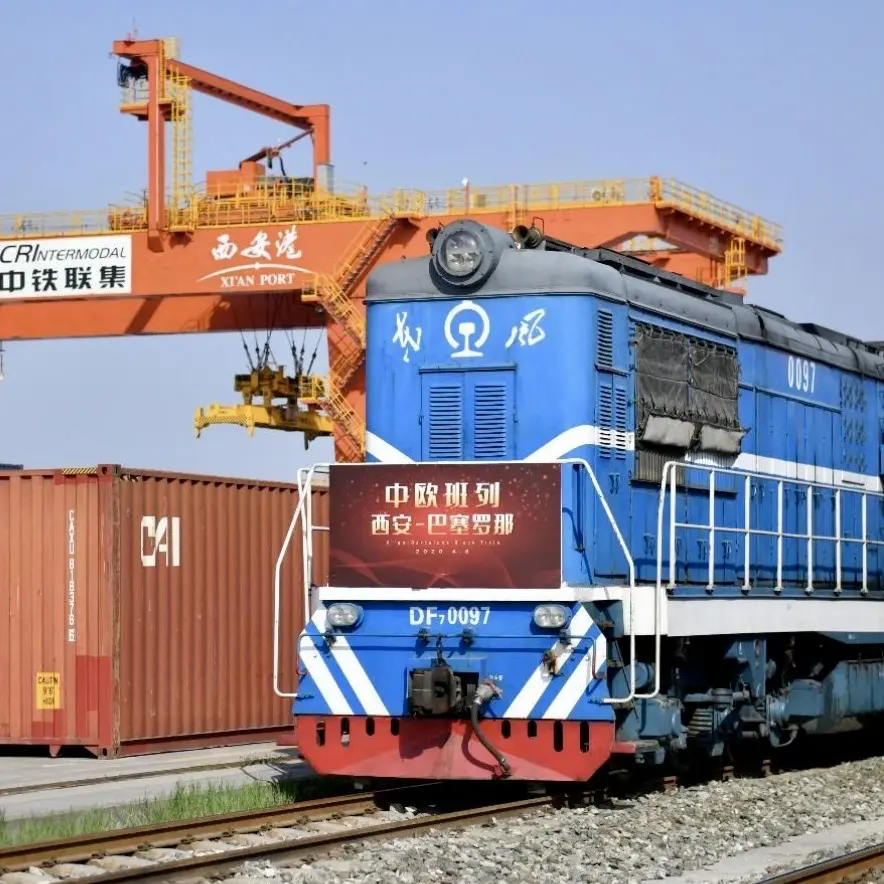 COVID-19 has considerably boosted the use of the New Silk Road, but it remains to be seen how the pandemic will affect the future of the rail link. Today's primary users, who are in sectors such as automotive and mechanical engineering, are expecting rail freight to decrease in the long term. In contrast, food and fashion companies see plenty of opportunities. "The pressure on the time to market means that we need faster modalities," according to fashion house Hugo Boss.
By Marcel te Lindert
Over the past five years, rail freight volumes between China and Europe have grown by 50%. The New Silk Road currently carries an average of 150 trains a week, but that figure could be a lot higher, according to consultancy firm Buck Consultants International. "Rail accounts for a maximum of 1% of freight transport between China and Europe right now. This has the potential to grow to 4 or 5%. That's still a relatively low share, but it represents a substantial increase in rail freight using the New Silk Road," stated researcher Kees Verweij from Buck during the European Silk Road Summit.
Reducing risks
Not everyone shares his optimism. Buck has surveyed 30 shippers from the automotive, mechanical engineering and electronics industries – the sectors that use the rail link the most. The coronavirus outbreak has highlighted just how vulnerable their supply chains are. If the shippers start producing more regionally to reduce their risks, this could eventually lead to a decrease in rail transport. "A lot also depends on the trends in the various sectors. In the automotive sector, we expect strong growth in the production of electric cars. The question is, where will those cars be assembled – in China or Europe?" said Verweij. "Regional shifts also play a role. Will rising labour costs make companies decide to produce further inland in China or to relocate to other countries in Southeast Asia?"
Buck also interviewed 13 logistics service providers, and they are a lot more optimistic. They are continuing to develop new services and see a growing number of opportunities for companies from other sectors, such as fashion, food and chemicals. Verweij: "What makes rail freight attractive compared to sea freight is the combination of acceptable costs with significantly shorter lead times. The coronavirus crisis has once again underlined this. When the air freight sector's capacity became limited and rates skyrocketed, many companies were thankful for the option of rail freight. Rail gives us a useful third modality on the route between Europe and China."
Time to market
One of the fashion brands that has discovered the New Silk Road is Hugo Boss. After an initial pilot with one product group in 2015, more product groups and more volumes have gradually been added over the years. Transport Specialist Cristiano Vecci of Hugo Boss is satisfied: "Rail is a safe, fast, reliable and sustainable solution. Reliability is particularly important for us, because a week's delay can have a major impact on sales. The only risk we see is that the Chinese government will stop subsidizing the rail service and that costs will rise as a result."
Sustainability is another important argument for Hugo Boss. Rail freight is associated with lower costs and significantly lower emissions than air freight. "Consumers are increasingly considering sustainability when buying clothes, and leading brands like Hugo Boss have to respond to this. In addition, new trends are coming and going increasingly rapidly, driven by social media and influencers. In order to improve our time to market, we have to look for modalities that are faster than ocean freight."
Mother-of-pearl buttons
Hugo Boss even ships some product groups in reefer containers. In winter, temperatures on the plains of Kazakhstan and Siberia can drop far below zero, which can have an impact on the quality of certain clothing. "We were afraid that the colours and quality of things like mother-of-pearl buttons on shirts would not be able to withstand the low temperatures, but after a few tests that turned out not to be an issue. So we've stopped using reefer containers for those products," explained Vecci.
At Hugo Boss, they also had their doubts about transporting shoes by train. Would they be affected by all the knocks, bumps and vibration during transport? "But we've solved that problem by packing the shoes in a different, shockproof way," said Vecci. "For us, rail has become a stable modality with a lot of added value for our supply chain, and we hope to continue using it."
Russian ban lifted
Logistics service provider GVT has noticed that more clothing and footwear brands are using the New Silk Road. For General Manager Roland Verbraak, the biggest advantage is the time to market. "Whereas they used to have to place their production orders as early as April to be sure to get the products to Europe on time, now the clothes and shoes can still be in stores on time even if they don't order until June."
Rail has also become an interesting option for shipping fresh produce from Europe to China again now that Russia has lifted its ban on agricultural products passing through the country. "The first obstacle has disappeared," affirmed Sales Manager Will Verhees from KLG. "But that doesn't mean that there are no more obstacles at all. In particular, all the paperwork is still very time consuming. The customs authorities take a very outdated approach. That can be done faster and better."
There is no longer a shortage of reefer containers thanks to a considerable increase in supply in recent years. The refrigeration units are fitted with 800-litre diesel tanks that can be refuelled during the journey if necessary. Special diesel is used to prevent the fuel from gelling in cold conditions.