Budbee expands fossil-free parcel delivery to the Netherlands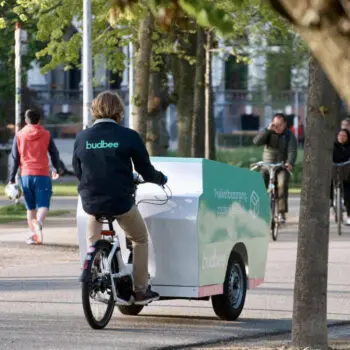 Budbee, a fast-growing logistics start-up from Sweden, is now offering its fossil-free parcel delivery service in more than 30 towns and cities in the Netherlands. Budbee's solution is based on a network of cargo bikes plus various vehicles powered by electricity, 'green' gas or recycled vegetable oil. This results in a 90% reduction of carbon emissions. In all other areas in the Netherlands, Budbee is carbon neutral through compensation projects. From early 2022 onwards, the company wants to deliver completely fossil-free in all countries where it operates.
Originally a technology company, Budbee operates a state-of-the-art logistics service for e-commerce, which is also known as 'logtech'. The head office is in Amsterdam and it now has sorting centres in nine different cities nationwide. In the space of just four years, the company has expanded its services to large parts of Sweden, Denmark and Finland, and most recently to the Netherlands too. This has secured Budbee a place in Supply Chain Media's Maturity Matrix of European supply chain start-ups. Because the Netherlands is densely populated and a lot of people order online, the country is currently the fastest-growing market for Budbee.
Behind the scenes
Budbee's technology actually allows consumers to see behind the scenes, such as which vehicle will deliver their parcel. They can also adjust the delivery time up until 1 pm every day. As a result, over 97% of Budbee's parcels are actually delivered on the first try, thus virtually eliminating unnecessary emissions due to parcels being taken back to the depot because the recipient was not at home. Another way Budbee minimizes its CO2 emissions is by using artificial intelligence to calculate the optimal route.
In the longer term, Budbee expects that online shoppers will want to decide which parcel service delivers their orders. In fact, this is already the case in the company's Scandinavian markets, which is why the start-up is committed to offering the best customer experience.
100% fossil-free
"It is an integral part of our corporate culture to help to improve the climate by making the logistics sector greener," says Jørgen Höppener, General Manager Netherlands. "That's why we strive to include sustainability in everything we do, by continuously looking at developing innovative solutions for our customers, our partners and the planet. The introduction of fossil-free delivery and the announcement of our ambition to be 100% fossil-free by 2022 is a first step in the right direction."
The company uses smart technology to allocate its fossil-free vehicles to the relevant zones. Currently, Budbee's fossil-free vehicles are running in over 30 of the country's main towns and cities, including Amsterdam, Breda, The Hague, Eindhoven, Haarlem, Rotterdam and Utrecht, giving approximately five million Dutch consumers access to the start-up's services. Dutch online stores such as Gymshark, Zalando, Asos, Fonq, MyJewellery and H&M already work with Budbee.