Automotive industry renews focus on sustainability now supply chains are stabilizing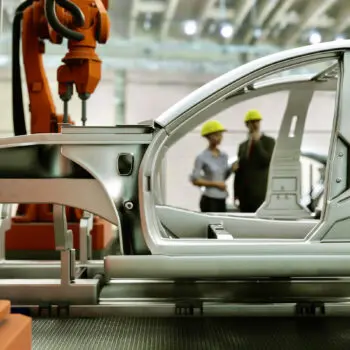 The automotive industry feels more confident to tackle future supply chain disruptions now that the order backlog has been reduced by 61%, with a further 39% reduction expected in the next year. With less than half of organizations having launched initiatives in the past 12 months, and only 13% of those actively being scaled up, it is time to renew the focus on sustainability. These are some of the findings in a new report called 'Automotive supply chain: pursuing long-term resilience' by the Capgemini Research Institute.
Although supply chain issues have now stabilized, supply chains are still transforming due to their complexity and evolving factors. These include the acceleration of electric vehicle production, new regulatory and government policies, and the introduction of more software-based features such as Advanced Driver Assistance Systems (ADAS) increasing the demand for semiconductors.
A global realignment is also underway as procurement from offshore locations has fallen by 22% in the past two years. Europe leads this trend, having reduced offshore procurement by a quarter since 2021. This is followed by Asia Pacific and the US, where offshore procurement has declined by 20% and 18%, respectively.
Additionally, the report shows that automotive organizations expect procurement from offshore locations to decrease by a further 19% by 2025, as electric vehicle production increases and manufacturing of key electronics components is relocated.
Faltering sustainability efforts
Successive supply chain crises have taken up all of the carmakers' time and diverted their attention – and investment – away from sustainability initiatives. As a result, sustainability is not currently considered a priority by many of them. Only 37% of those surveyed for the report indicated that issues such as carbon footprint management and environmental risk influence their supply chain decision-making.
Investments across the industry reflect this trend. Although the total investment in supply chain sustainability by original equipment manufacturers (OEMs) is the same as last year, suppliers' annual investment is down significantly (by 17%).
While sustainability and circularity are important for building a more resilient supply chain and future-proofing operations, the scaling up of circular economy initiatives in the automotive industry has been delayed by both a shortage of suppliers of recycled materials and a shortage of the materials themselves. Automotive organizations now need to balance sustainability and the circular economy with competing factors such as cost and affordability. According to the report, digital solutions can help to address this.
Drivers of nearshoring
Nearshoring strategies in the automotive industry are expected to be accelerated, especially due to the introduction of electric and software-based vehicles and the development of regulations and government policies, according to the report.
The average proportion of vehicle value attributed to semiconductors and sensors has increased by 51% over the past two years, and this is expected to increase by a further 46% between 2023 and 2025. However, only half of OEMs regard the current supply of semiconductor components as secure.
70% of those surveyed indicated that most of their supply currently comes from China, Taiwan, Japan and Korea. In an effort to achieve more supply security, OEMs are investing in alternative sourcing methods and moving away from Tier 1 and Tier 2 suppliers. When it comes to raw materials for electric-vehicle batteries, for example, OEMs have currently secured only three years of supplies on average.
Inventory building has stabilized
According to the report, half of automotive OEMs believe they would now be able to avoid 60% of the revenue loss they suffered in 2022 if the same scenarios – including the semiconductor shortage – were to happen again today.
To address operational and logistical issues, both suppliers and OEMs have adopted strategies based on adding operational investments and working capital. For example, 81% of suppliers and 44% of OEMs have built up their inventories. However, the researchers emphasize that this is unsustainable in the long term, since holding excessive inventory can have various negative effects on the operational and financial well-being of businesses.
Intelligent data-driven strategy
Visibility and transparency are key to creating a more trustworthy supplier ecosystem, according to the researchers. 53% of respondents appear to have a mature intelligent supply chain to enable data-driven decision-making, enabling the integration of newer technologies such as AI and data analytics.
"Over the past few years, organizations have been forced to restructure and refinance supply chain management on the fly in order to navigate multiple disruptions from all fronts," says Alexandre Audoin, Global Head of Automotive Industry at Capgemini.
"While in a more positive place today, automakers need to look at delivering a long-term, intelligent and data-driven strategy that will build resilience and competitive advantage. More so, this needs to incorporate circularity as an essential component, not only to help organizations navigate regulatory changes, but to embed new players in the supply chain ecosystem and also achieve ambitious climate targets," Audoin adds.