The key slides of the S&OP Selection Day 2022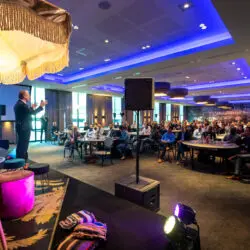 How do you maintain a useful and solid Sales & Operations Planning (S&OP) process in these extremely volatile and very uncertain times? And how do you find the right supporting software tools in a world full of promises of Machine Learning and Artificial Intelligence? These were the main topics of the S&OP Selection Day in Utrecht, the Netherlands on November 16, 2022.
Martijn Lofvers, Chief Trendwatcher of Supply Chain Media, painted the evolution of S&OP with a series of recognizable illustrations for companies.
Jonathon Karelse, author of the book 'Histories of the Future', addressed as next keynote speaker the three deadly myths of S&OP: the aim for consensus, the aim for accuracy and the notion that S&OP will fix your forecast and inventory.
Bram Desmet, Adjunct Professor Operations & Supply Chain at Vlerick Leuven Gent Management School, explained how companies should use external data, leading indicators, to really drive value. Extrapolating recent sales is common but doesn't help and is in the current economy even outright dangerous.
Alberto Lupano, Senior Vice President Group Supply Services Transformation at CPG manufacturer Reckitt, told the learnings from his journey of digital transformation in an end-to-end supply chain planning. Technology is not enough to transform a complex discipline like supply chain planning. A new paradigm of processes, operating model and capabilities is required too.
In the closing remarks Martijn Lofvers compared the selection of S&OP software with buying a combustion engine or electrical car. Companies shouldn't just focus on functionality, but also ask a limited number of vendors about technology, references in their own industry and domain expertise.
You can download the best slides of the keynote speakers of the S&OP Selection Day below.
Download:
S&OP Selection Day – summary slides Supply Chain Media 16 November 2022