Olena Vdovychenko, Metro Ukraine: ''Without empowering people you can't accomplish anything''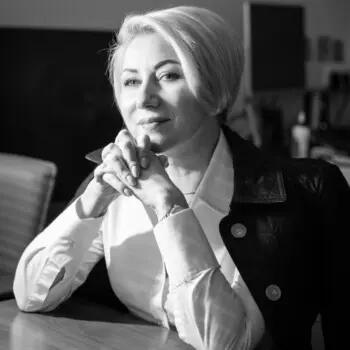 Nothing can prepare a CEO for a war in which your personnel go to the front line and some lose their lives. For Olena Vdovychenko, CEO of Metro Cash & Carry Ukraine, the last 15 months were a shocking and emotional experience. Even though tensions in the country had been high, the invasion of Ukraine by its neighbours was unexpected, she says. Through it all, it was important to show and share emotions and be there for everyone in the company while leading a path through the chaos. 
A supply chain background has helped Vdovychenko facilitate cooperation with organizations outside the business to pull together and share resources when the infrastructure collapsed. Today the business is back on track. "We have survived and become stronger. The level of cooperation has been an outstanding feature of our country and it's why we are confident that we will win," she says.
How was it for you on 24 February 2022 and did you ever imagine that Ukraine would be at war with Russia?
"No, in a century of efficiency, digitalization and innovation where humanity and sustainability are top of the agenda we never expected a war on this scale. The war started in the east in 2014 and although tensions were high the prognosis from businesses, associations and government was actually de-escalation. No way did we expect the war to start on all sides on this scale. If I had known I would not have been on vacation in Zurich! My head of security called me at 4 AM. I said: Okay, but we have an evacuation plan for our people and families. We knew how to exit stores. He said: You don't understand. The Russians are everywhere – in Kyiv, Kherson, Chernihiv. Then I immediately packed and returned to Ukraine. I was the only person crossing the border in that direction that day. Going the other way was a tailback of cars and people some 50km long, five rows wide. The look of fear and desperation in their eyes is imprinted on my memory. People didn't know what was happening.
My son, then 14 years old, was at school in Kyiv in a territory about to be occupied. It was impossible to get a car or taxi to collect him because everyone was leaving the city. By accident we found a taxi close to the school that was able to pick him up and take him to my mother. One hour later the school was occupied by Russians. It was terrible. Even after one year I can't say we are used to this reality. We have to make the most of the situation but when you take a step backward and look in on it, it still makes no sense."
Can you describe your role and responsibilities and how you as CEO responded to the invasion?
"My responsibility is the same as all leaders: You take care of your people and the people take care of the business. In Ukraine we have 26 stores of which 24 are open. One is in occupied territory in Mariupol and the other is in Kharkiv which is very close to the border, so it's not secure. We were running with 22 stores for most of the year but two recently reopened. Our 3,200 employees serve business customers in hotels, restaurants and cafes, small traders and consumers who make large purchases. … … …
Want to read the full interview with Olena Vdovychenko?
Download the full interview on PDF by filling in the form below.
Because of the exceptional circumstances Supply Chain Media shares the video recording of this interview on the YouTube channel of Supply Chain Movement.
Download:
Interview Olena Vdovychenko, CEO Metro Cash & Carry Ukraine (Supply Chain Movement Q2, 2023)