Low water levels disrupt construction supply chains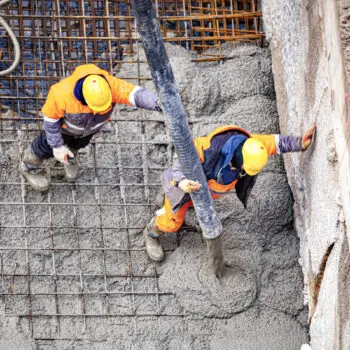 There is certainly no shortage of work in the Dutch construction industry, but the sector is facing major challenges due to the persistent drought. Low water levels are hampering transport, causing shortages of sand and gravel needed to make concrete. The high price of gas is also driving up the price of bricks. Construction projects are at risk of stagnating.
Much of the sand and gravel used in the Dutch construction industry is imported – either by inland waterways from Germany or via the North Sea from the United Kingdom and elsewhere. Supplies from Germany are now stagnating because the low water levels of the major rivers mean that barges can only carry half of their normal loads of sand and gravel. This cannot be solved by deploying extra barges, since Germany desperately needs them to keep its power stations supplied with coal – now that less gas is coming in from Russia – and to import grain from Eastern Europe.
"This transport problem is definitely going to impact on the construction industry," said Leonie van der Voort, Director of Cascade, the association for sand and gravel producers, in Dutch newspaper AD. She indicated that the maximum amount of sand and gravel is already being extracted domestically, and that additional coarse material from the country's eastern neighbours is needed to achieve the right mix for the concrete manufacturers. Van der Voort added that she would not be surprised if construction workers' activities were to grind to a halt in a few weeks' time due to a lack of concrete.
Road transport is a costly alternative
Road freight is one alternative to inland waterways but it is more costly, plus there is an extreme shortage of drivers. Pim van Baaren, Chairman of Evofenedex, the council for inland shippers, fears that the shortages will soon have an impact – initially locally, and perhaps even nationally at some point. Moreover, the supply problems have already led to hefty price increases. "A ton of gravel has risen from €25 to €40. The companies cannot absorb these extra costs. Ultimately, the higher prices will be passed on to homeowners," stated Van Baaren in AD.
Extract more sand and gravel locally
They both advocate the extraction of more sand and gravel in the Netherlands. According to Van Baaren, there has been a decline in such activities due to the extremely lengthy permit procedures. "We need to extract more locally rather than from all over Europe. That will also reduce the impact of supply problems like the ones we are currently experiencing," Van der Voort is quoted as saying. However, the opposite is happening. "The old permits are expiring, but hardly any new ones are being granted. In three years' time, we won't have any Dutch gravel anymore. That's going to hit the construction industry hard."
Expensive bricks and long lead times
An additional problem is that the high gas prices also mean expensive bricks. Brick manufacturers use a lot of gas, but they can't simply double their prices – even though that's what they need to do in order to remain profitable. This has resulted in the St. Joris brick factory in the Dutch town of Beesel being closed for some time now. "The only way we can save money is by producing less," stated Managing Director Jeroen van Thiel in Dutch financial newspaper FD. In an extra blow for brickyards, construction projects generally have long lead times which means that many bricks have already been ordered and paid for in advance. Therefore, many brick producers will have to dip into their reserves. One thing is for certain: the prices will be significantly higher in future negotiations.