Journey to the self-driving supply chain
Supply Chain Media and Aera Technology organized the webinar "Journey to the self-driving supply chain" on Tuesday June 23. 140 attendees joined the webinar live.
Market volatility, crisis environments, hyper-competition, and heightened customer expectations force companies to accelerate their digital transformation timeline. AI combined with internet-scale technology is ushering in a new era of self-driving supply chains, improving the speed and accuracy of decisions.
Technological and digital advancement are the primary drivers in the modern enterprise, which help confront the hurdles of ever-increasing scale, complexity, and pace in practically every industry. Cognitive Automation is no longer an option but a must for enterprises to succeed in the new environment.
Sean Culey, a Fellow, Author and Transformation Change Agent, Martijn Lofvers, CEO & Chief Trendwatcher Supply Chain Media, and Gonzalo Benedit, General Manager, EMEA, Aera Technology discussed:
– What the future looks like for supply chains
– How Cognitive Automation is essential in your journey to becoming self-driving supply chains
– Best practices and innovations supply chains are considering now to enable them to be agile and resilient
Missed the webinar?
The recorded webinar is available on the YouTube channel of Supply Chain Movement. The slide deck is available for download below.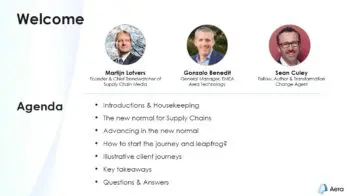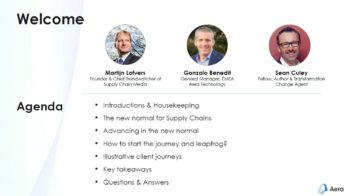 Download:
Webinar Journey to Self-Driving Supply Chain (June 23, 2020)