Revolutionizing Supply Chain Learning with ChatGPT and Machine Learning
September 6 | 16:00h

-

17:30h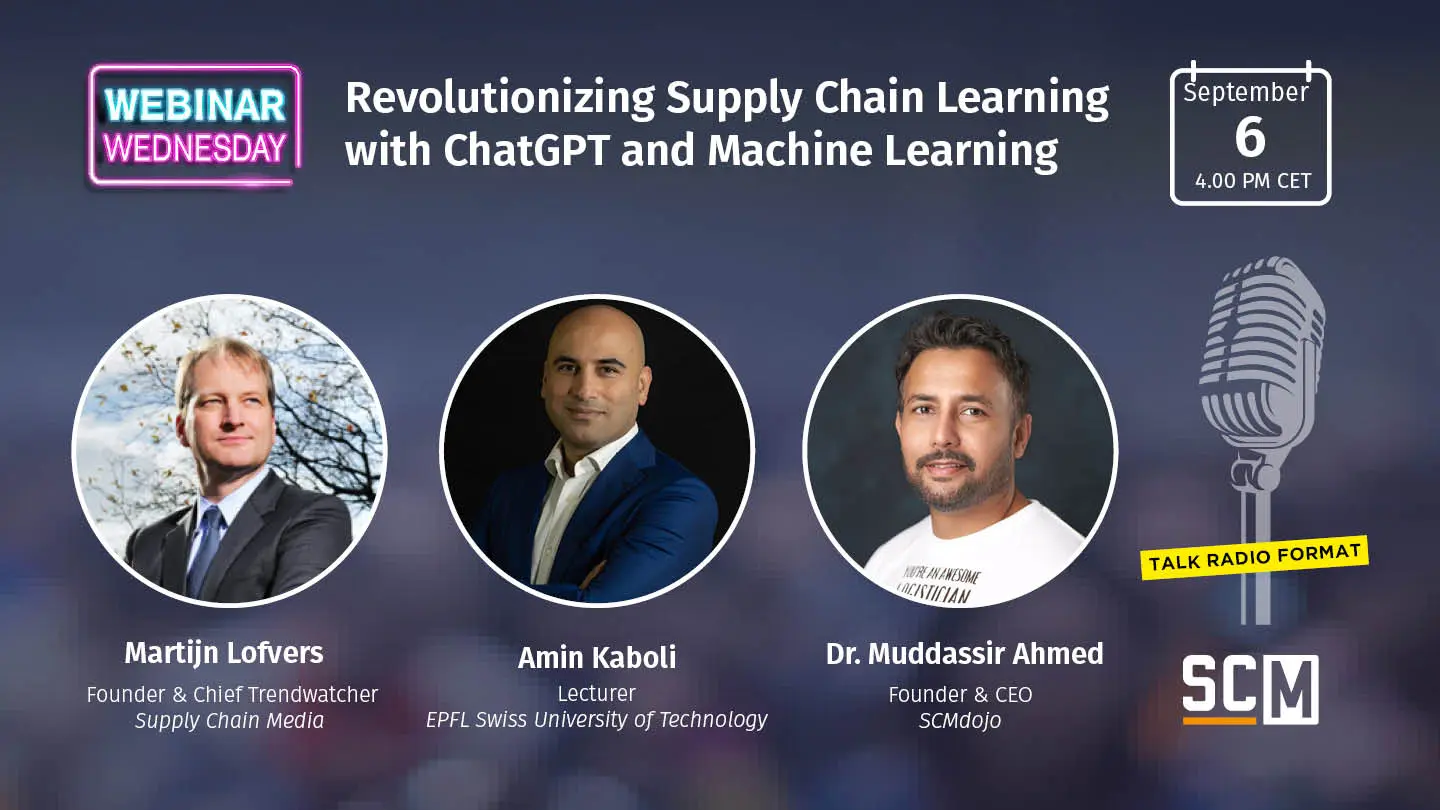 In an era where the supply chain landscape is in a constant state of flux, staying updated with the latest knowledge is crucial for supply chain professionals. The demands and pressures of the past few years have been unprecedented, and in the fast-paced realm of today's "TikTok times", attention spans have become more fleeting than ever.
The COVID-19 pandemic and its subsequent lockdowns reshaped the way companies approach learning. With physical interactions limited, a new era of remote and online learning emerged. Over the past year, numerous pioneering initiatives, spearheaded by industry leaders such as SCMdojo, the EPFL University of Technology, and Supply Chain Media, have leveraged recorded video content for supply chain education.
However, one innovation has been making waves in the realm of knowledge management: ChatGPT. This new technology holds the promise of providing instantaneous answers through an AI-powered chatbot. Notably, Supply Chain Media has harnessed the potential of ChatGPT by developing an online knowledge repository infused with machine learning capabilities. This platform has proven invaluable for onboarding new talent and nurturing existing employees, employing algorithms reminiscent of those used by streaming giant Netflix.
During this captivating and interactive webinar, you'll gain insights into the following topics:
• Unpacking the transformative impact of Covid-19 on remote learning
• Harnessing the power of video content for supply chain training
• Real-world applications of ChatGPT within the supply chain domain
• Building capabilities and facilitating knowledge exchange
• Exploring diverse objectives in employee engagement and continuous learning
• Envisioning the future trajectory of supply chain management, strategic planning, and the learning landscape as a whole
Our Esteemed Moderator and Speakers:
• Martijn Lofvers, Founder & Chief Trendwatcher at Supply Chain Media
• Amin Kaboli, Lecturer at EPFL (Swiss University of Technology) and CSO at the supply chain startup, Lagrange.AI
• Dr. Muddassir Ahmed, Ph.D., Founder & CEO of the e-learning platform, SCMdojo
Join us on Wednesday, September 6th, 2023, for an Exciting SCM Webinar!