Digital twin helps Medtronic to save time in supply chain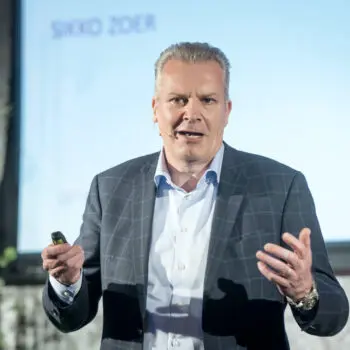 COVID-19 has been a catalyst for supply chain digitalization at many businesses, and Medtronic is no exception. The company has recently accelerated its implementation of a digital twin, control tower and integrated business planning. Besides generating US$55 million in cost savings, this has also resulted in extra speed according to Sikko Zoer from Medtronic during his keynote at inNOWvate Supply Chain Event: "We now make decisions 33% faster".
Sikko Zoer (pictured), Medtronic's Vice President of Global Supply Chain, had never imagined that the company would one day be involved in a supply chain partnership with Tesla, SpaceX and Microsoft. But they suddenly found themselves collaborating in order to rapidly scale up the production of medical ventilators after the coronavirus outbreak. "The demand shot up tremendously, but we lacked sufficient production capacity and components so we had to be creative," he explained.
His example illustrates that today's supply chains need to be agile. "It's amazing how quickly COVID-19 developed from a national concern into a global pandemic – in the space of just six weeks. No one was prepared for that, including Medtronic. That's why it's now time for us to change – both in terms of how we operate as a company and also within that as a supply chain. The virus was a catalyst for change," added Zoer.
Digital ecosystem Medtronic
In the remainder of his keynote presentation, Zoer explored in more detail how exactly the supply chain should change. "It's necessary to break down silos, make decisions faster and avoid risk-averse behaviour. This will all help to increase agility, and there's an important role for supply chain digitalization of course."
For Medtronic, digitalization means implementing three elements: a digital twin, a control tower and integrated business planning (IBP). Among other things, the company needs IBP in order to get a grip on – and adequately respond to – the rapidly changing demand. But that is only possible with an optimal supply chain design, which is where the digital twin comes in; it enables Medtronic to make the trade-offs and analyse the scenarios needed to support better decision-making about the supply chain setup.
Lastly, to ensure that the supply chain actually keeps running as intended, Medtronic uses the control tower: "You can't view these as three separate elements. Together, they form part of a digital ecosystem. Within that, it's not about the individual solutions but about the results that they produce."
Large team of data scientists
The company has created a centre of excellence for data science, comprising a team of 30 data scientists, which plays a key role in the new digital supply chain. "Once again, it's not about the number of data scientists or the tools they have at their disposal, but about the results. We already had access to a lot of data and reports within Medtronic, but they only described what had happened in the past. We want these data scientists to help us look to the future, but they can only do that if they understand the current business processes. So before we started developing and building the tools, we first let them spend time talking to people from the business."
Supply chain digitalization has already delivered financial benefits for Medtronic. In the second half of 2020, the company reduced its inventory value by US$28 million and saved US$55 million in costs. "In addition, it has given us extra speed. We now make decisions 33% faster which has helped to make our work considerably easier."
Missed this event?
The recording is available on the YouTube channel of Supply Chain Movement. The slide deck is available for download below.
Download:
slide deck Keynote Sikko Zoer inNOWvate Supply Chain Event 2021