Cyber hazards pose a greater risk to businesses than coronavirus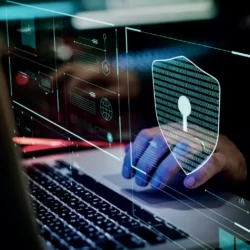 Cyber hazards are currently regarded as the biggest business risk worldwide, according to the Risk Barometer 2022 by Allianz Global Corporate & Specialty (AGCS). The survey revealed that companies are more worried about the threat of ransomware attacks, data breaches or a major IT outage than about business interruption, supply chain disruption, natural catastrophes or the COVID-19 pandemic.
Cyber incidents have topped the Allianz Risk Barometer 2022 for the second time in the survey's 11-year history, pushing business interruption into second place. Natural catastrophes climbed from sixth place in 2021 to third place this year. Pandemic outbreak has dropped into fourth place. Meanwhile, climate change has risen to its highest-ever position, ranking sixth (up from ninth place last year).
"Business interruption is likely to remain the most important underlying theme in 2022," summarizes Joachim Mueller, CEO of AGCS. "For most companies, their biggest fear is not being able to manufacture their products or deliver their services. There was unprecedented disruption in 2021 and the situation is only likely to ease gradually this year, while new problems related to COVID-19 cannot be ruled out. Resilience against the many causes of business disruption is increasingly becoming a competitive advantage for companies," he states.
Ransomware
Cyber incidents featured in the top three threats in most of the countries surveyed, mainly due to the rise in ransomware attacks. Respondents consider these to be the biggest cyber threat for 2022. Recent attacks have displayed worrying trends such as dual extortion techniques, in which system encryption is combined with data breaches. This takes advantage of software vulnerabilities that can affect thousands of companies or can be used to target critical physical infrastructure.
Business interruption
Business interruption ranks the second-most worrying risk. In 2021, a year characterized by widespread disruption, it became clearer than ever just how vulnerable modern supply chains are. According to the survey, cyber incidents are the most feared cause of business interruption. This reflects not only the rise in ransomware attacks, but also the impact of the ongoing digital transformation within companies and the shift to working from home. Natural catastrophes and the pandemic are the two other key triggers for business interruption, according to the respondents.
Pandemic
Although the pandemic remains a major concern for businesses, it has dropped from second place to fourth. The COVID-19 crisis continues to overshadow the economic outlook in many industries but, encouragingly, most companies feel that they have adapted well. 80% of respondents describe their company as 'adequately prepared' or 'well prepared' for a future incident. Improving business continuity management is the primary step that companies are taking to make their businesses more resilient.
Natural catastrophes and climate change
According to AGCS, it is telling that natural catastrophes and climate change have climbed to third and sixth place, respectively. After all, these two topics are closely interlinked. In recent years, it has become clear that weather-related events are becoming increasingly frequency and severe as a result of global warming, the insurer reports. In 2021, global insured natural catastrophe losses were in excess of US$100 billion. Hurricane Ida in the US was probably the costliest event in this regard, but more than half of the losses came from so-called secondary perils such as floods, heavy rainfall, tornadoes and even winter freezes, AGCS says.