Checklist: Optimizing the CO2 footprint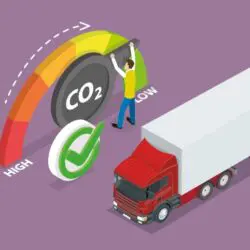 In order to limit global warming, CO2 emissions must be substantially reduced by 2030. Since the logistics sector accounts for 24% of the total CO2 footprint, supply chain and logistics professionals have an important responsibility to contribute to this substantial reduction. Use this checklist to find out what you can do to take control of transport-related CO2 emissions.
At the UN Climate Change Conference in Paris in 2015, close to 200 countries agreed to try to limit global warming to a maximum of 1.5 degrees. But according to the UN environmental agency UNEP, the latest climate plans of around 120 countries show that the earth is heading for a 2.7 degree temperature increase this century. For the 1.5 degree target to stay within reach, greenhouse gases (such as CO2) will need to be reduced by 55%.
In the most recent edition of its Emissions Gap Report, UNEP concludes that countries' climate plans still fall way short of achieving the desired reduction, likewise, many companies lack concrete objectives in this context. The CO2 policy is still primarily a boardroom issue rather than being part of the daily operations.
Transparency about carbon emissions
However, it is not inconceivable that CO2 reporting will become a mandatory part of the annual accounts. Moreover, customers are increasingly asking for information about the emissions related to the products and services they purchase. It is important to get a grip on this, because the transport of products from the warehouse to the customer is a key source of carbon emissions.
Businesses that can be transparent about this and report the figures voluntarily, even when they are not legally obliged to do so, send out a clear signal that they are shouldering their responsibility. In contrast, companies that do not report their figures are at risk of being suspected of below-average performance.
Assess your progress, download the checklist Optimizing the CO2 footprint
To help you assess your progress in the transition to sustainable transport, Supply Chain Movement and BigMile have developed this checklist for transport companies and their clients. You can use it to determine which steps you still need to take to truly optimize your transport-related CO2 footprint. Fill in the form below and get this checklist in your mailbox.
Download:
Checklist: Optimizing the CO2 footprint