Anne van de Poel, Too Good To Go: 'Get data out of silos'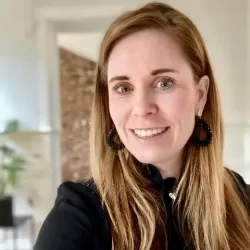 Anne van de Poel left Mars Wrigley to become Global Manufacturing Lead at Too Good To Go, a scale-up that aims to create a world without food waste. According to her, the biggest problem is still silo-based thinking: "Preventing waste in the value chain requires openness and collaboration between companies and suppliers."
Why did you make the switch?
"I'd spent almost 14 years working at consumer goods companies such as Coca-Cola and Mars Wrigley, and I'd gained experience at local, regional (Europe and emerging markets) and global level. I'd been able to work on my own development as a leader within Sales and Supply Chain, and I've always loved the connection between the two. This came together beautifully in my most recent role in the worldwide management of the demand planning agenda. As my next step, I wanted to move into a global role where I could develop and implement a new strategy and have more social impact at the same time. I got that opportunity at Too Good To Go, which I was already familiar with thanks to its inspiring mission. It's a benefit corporation (B-corp) that strives for a world without food waste. It's already active in 17 countries and is growing rapidly. Not only has Too Good To Go been named the most inspiring employer of 2021, but the company's app, for example, is one of the top ten most-downloaded food apps in the world (with McDonald's in first place, Ed.). I joined the company on 1 September."
What does your new position entail?
"Developing the global strategy to reduce food waste at the food manufacturing level. In other words, working together with food manufacturers and suppliers to find ways to avoid food being disposed of unnecessarily. Currently, 40% of all food produced is wasted – and 30% of it doesn't even reach retail. My role is to lead the team that takes this a step further upstream in the supply chain and inspires and encourages food manufacturers to make an impact – such as by exploring the possibilities for using the TGTG app to offer consumers access to stock that is unsuitable for sale through the regular channels, by looking at shelf life labelling together, and by taking collaborative approaches to consumer initiatives."
Why are you the right person for this job?
"Above all because I have the right background. I combine sales experience with supply chain knowledge and experience, I have experience of leading different teams and I'm capable of switching between local and global. This enables me to tackle this task from a broad perspective. I understand the causes, drivers and challenges from the manufacturing side and I have an extensive network. I'm a 'people leader'; it energizes me to achieve results by supporting people's development and working together across silos, and that kind of collaboration is essential in a complex task like this. I've moved from a mature global food manufacturer to a B-corp in the scale-up phase, with a different culture and a different type of people. That means you have to reinvent yourself as a leader, which is very exciting and interesting."
What's on the supply chain agenda in the short term?
"At the top of the list, how can we create end-to-end visibility into food waste? How can we share data so that we're all starting to combat food waste based on the same information? What does that mean technologically? And how will that help us to address the omni-channel supply chain? I think the answer is by working together, having open conversations and sharing data. Only then will we be able to find scalable solutions to stop food and resources being wasted."
What is your supply chain vision, and what will be the most important aspect of that in the near future?
"My vision is closely related to the topics I just mentioned – it all starts with getting facts and data out of the silos. Silo-based thinking is still the biggest problem. Preventing waste in the value chain requires openness and collaboration between companies and suppliers."