Willemijn Potjer sets up supply chain for The Seaweed Company: "I have to figure it out myself"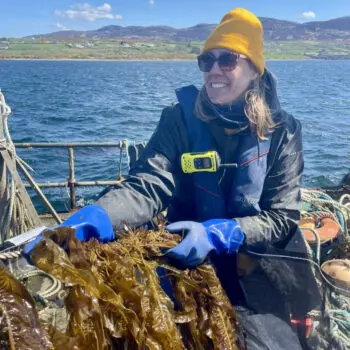 Seaweed is one of the fastest-growing plants in the world. It not only absorbs harmful substances from seawater, such as CO2, it also grows without the use of land, fresh water, fertilisers and pesticides. Moreover, it is very beneficial for land, animals and humans. No wonder that more and more start-ups are venturing into this market. The Seaweed Company is one of the few companies active in the entire chain (from sowing to selling dried seaweed solutions) and in several countries. Even though it is a relatively small company, the supply chain is challenging. A good reason for Willemijn Potjer to quit her well-paid job and be a pioneer with this start-up.
Potjer spent many years working for Danone. "It's a company that has a positive influence on you in terms of sustainability and health. At the same time, as a supply chain professional, you have less direct impact on these two core values because there you are just a link in the chain. I want to make an impact on the world, rather than work in the outskirts. And I wanted to be at the controls rather than be a cog in a bigger wheel."
She'd seen a notification from The Seaweed Company on LinkedIn and clicked through to the website. "I was triggered immediately. Its impact on economic, social and sustainability issues appealed to me, as well as the fact that the entire concept is based on scientific research and results. Seaweed actually makes a positive contribution to the climate and the world."
A week later she saw a vacancy for someone to set up and run the supply chain. "It looked super interesting. Shortly afterwards someone with a strategic position at Ahold also switched to this company and I knew for sure that I wanted to do that too. I felt that the company was really well put together."
The Seaweed Company is different from other seaweed companies as it controls the entire chain … … …
Want to read more?