War in Ukraine deals a new blow to the German car industry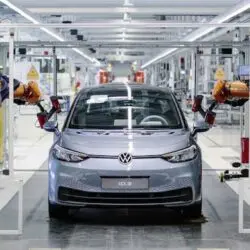 These are tough times for the German automotive industry. First the coronavirus pandemic caused a severe dent in car sales, then there was a shortage of microchips, and now the war in Ukraine is causing new supply problems. This time, disruption to the supply of wiring harnesses from Ukrainian manufacturers has brought several factories to a standstill.
Ukraine is a major supplier of wiring harnesses: thick bundles of cables for connecting software and sensors to the engine. No wiring harness means no car – and the wiring harness is built into the bodywork, so retrofitting is not an option either. Factories in Ukraine have had to scale back production or even shut down completely because of the war, resulting in wiring harness shortages that are seriously hampering German car production.
Production problems at Volkswagen
This shortage caused Volkswagen, Europe's largest car manufacturer, to halt production at its main factory in Wolfsburg earlier this month, and the same thing happened recently in Dresden and with the manufacture of Volkswagen's electric models in Zwickau. Volkswagen companies Audi and Porsche are also experiencing problems, and thousands of employees have had their working hours reduced.
Despite suffering the least from the chip shortage thanks to smart purchasing, BMW is now also being forced to scale back production; its assembly activities were recently halted at VDL Nedcar in the Dutch city of Born, and nothing is currently being built at the British Mini plant, which is also part of BMW.
Of all the car manufacturers, Mercedes still appears to have the fewest problems. But even this company is seeing a slow-but-sure decline in production, so it is probably only a matter of time before its factories grind to a halt.
Increasing scarcity of chips
Manufacturers are now trying to produce wiring harnesses elsewhere. However, because this is often manual work, it takes a lot of time and manpower. Moreover, the war in Ukraine is further increasing the scarcity of microchips. This is because Russia is one of the largest suppliers of palladium, which is used in electronic components, and Ukraine is responsible for 70% of the world's production of neon – an essential gas in the production of semiconductors.
Longer delivery times for cars
As a result of all this, delivery times for some car models have now risen to over a year. It is difficult to predict whether this will remain the case, however. After all, the Russian market for new cars has vanished now that, following Russia's invasion of Ukraine, all major car manufacturers have announced that they will no longer export to Russia and will also halt their production activities in the country. Approximately 1.6 million new cars were sold in Russia last year, of which almost 1.1 million were manufactured in Western Europe.