Volker Schmitz, HP Inc.: "You cannot be successful without focus on the customer experience"
As working and studying from home became the new norm last year, demand for personal computers and home printers rose significantly. As one of the world's largest manufacturers of PCs and printers, HP Inc. has been working diligently to keep pace. Head of its global supply chain operations, Volker Schmitz, states that new business efforts and resilient supply chain strategies are the priority.
Interview by Martijn Lofvers, Edwin Tuyn and Helen Armstrong
HP prides itself on inventing and reinventing. The HP Garage in Palo Alto, California is considered "The Birthplace of Silicon Valley" and the company has constantly evolved over the years. "When I joined 27 years ago, we were even making test and measurement equipment," says Volker Schmitz. "HP remains a dynamic and inspirational company that has given me the opportunity to work in many different areas and grow. What I really like is the way we work together – collaboratively with trust and respect for each other. It is results-oriented and has focused on sustainability since the very beginning. All of these attributes continue to keep me engaged as an employee."
What is your responsibility regarding supply chain?
"In 2015 Hewlett-Packard Company separated into two companies: Hewlett Packard Enterprise, for services and enterprises infrastructure, and HP Inc. for products such as PCs, printers and 3D printing solutions. I head the global supply chain operations for HP and I am responsible for the experience that customers have with our supply chain. We engage with thousands of customers in approximately 180 countries and support the entire company business that reported $56 billion in revenue in FY2020.
In supply chain we secure orders, manufacture, ship, deliver and invoice and are accountable for returns and reselling while driving down costs and increasing efficiencies. The businesses are run with customers in countries and markets, while the supply chain setup is completely global in scope. I'm also responsible for driving the deployment of our global ERP and other digital transformations. In addition, I lead the supply chain sustainability working group."
What is your company strategy: Product leadership, operational excellence, or customer intimacy, assuming that minimum thresholds are met?
"Product leadership is very important: we have created a comprehensive product portfolio, hold numerous patents, and drive innovation across our business. We see further opportunities to advance product leadership in computing and printing as well as industry disruption with our 3D printers. We already 3D-print more than 200 plastic parts used to build our own 3D printers and we have the technology not just for plastics but also for metal. Furthermore, we are extending into new fields like microfluidics, leveraging innovation from our print technology.
But you cannot be successful as a company without focus on the customer experience at all touchpoints. And our customer requirements are changing, moving from a transactional business to a more services-led approach.
In printing we support this through our 'managed print services' concept for professional customers and with 'Instant Ink' for consumers. In the PC space we are moving towards a 'device as a service' concept as well. At the same time, we understand that the supply chain is here to support the business through its operational excellence. Our goal is to improve delivery to the customer, with focus on cost, quality, and sustainability." … … …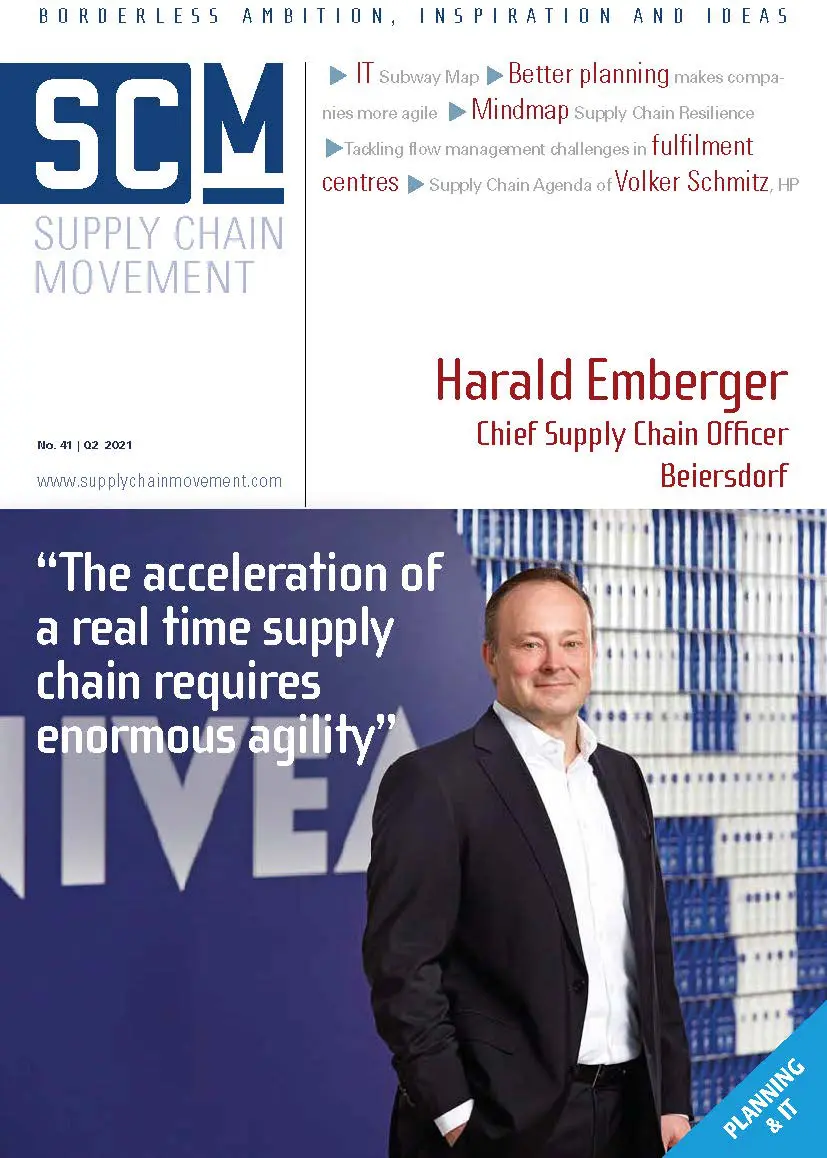 Want to read more of the interview with Volker Schmitz?
This article was first published in Supply Chain Movement 41 | Q2 – 2021