VMI system goes live at Fokker Aerostructures
VIBA Aerospace Products and Services  in the Netherlands and Peerless Aerospace Fastener Corporation, a distributor of aerospace fasteners based in Farmingdale (NY), went live with their Vendor Managed Inventory (VMI) of special fasteners at Fokker Aerostructures covering several programs. This was announced in a press release of March 24, 2014.
Over the next five years, the VIBA-Peerless partnership will supply Fokker's Dutch production sites in Papendrecht and Hoogeveen with all the fasteners required for several Fokker Aerostructures programs. The main benefit of the VMI delivery system for Dutch-based aerospace manufacturer Fokker Aerostructures is that the company can outsource its entire supply chain—from production planning to actual use in the production facility—to a single party.
Deliveries are made under the just-in-time principle with materials placed directly into Fokker production bins by Peerless/VIBA personnel. This system streamlines purchasing, receiving, and production operations while optimizing cash flow at Fokker Aerostructures and ensuring the availability of stock to meet Fokker's production needs. Due in part to VIBA's strategic location, the special on-site stock systems at Fokker Aerostructures are stocked weekly and can be updated quickly in response to changes in Fokker's production needs or priorities.
Forward Stocking Location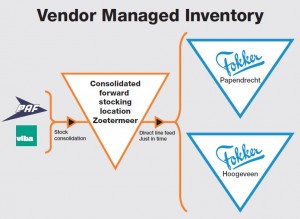 Materials to support Fokker's VMI Direct Line Feed program are provided by both VIBA and Peerless and are housed in a Forward Stocking Location at VIBA's facility in Zoetermeer. In the joint partnership, Peerless manages automation and planning, while VIBA handles the actual physical storage and logistical replenishment activities at Fokker. This VMI initiative combines Peerless's expertise in the area of VMI with VIBA's logistics capacity and aerospace experience on the European market, and in particular in the Netherlands.
Maurijn van der Does, Director Procurement and Supply Chain Management, Fokker Aerostructures, comments: "Over the past year, Fokker and the Peerless-VIBA team have prepared extensively for the introduction of VMI to support a number of different programs here at Fokker. The collaboration between Peerless and VIBA, in their support of Fokker, has gone quite smoothly, and we appreciate the additional benefits that this partnership brings to the Fokker organization. In my new capacity as Director of Procurement and Supply Chain Management, I look forward to my team working closely with the VIBA and Peerless team to bring even greater efficiency and higher levels of quality to Fokker."