Unique micro-warehouse approach drives growth for e-fulfilment start-up Huboo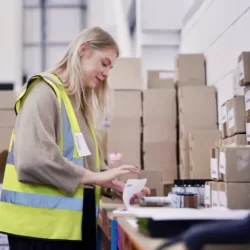 The e-fulfilment industry in the Netherlands is growing rapidly. One start-up capitalizing on that is Huboo, a Bristol-based company that opened a subsidiary in the Dutch town of Veldhoven last year. The company's unique approach to supporting retailers by holding stock and processing and shipping online orders is proving popular in the Dutch market. "We have divided our facility here into 'micro-warehouses': customer-specific areas of the warehouse that are managed by a fixed team of employees. They act as an extension of the companies we handle orders for," explains Roeland van Duifhuizen, Sales Manager at Huboo.
Huboo has been successful in the UK since 2018, and Huboo's way of working now appears to be catching on in the Dutch market too. Customers appreciate the fact that the company works with customer-specific teams, which means that both suppliers and end customers receive personal service. As a result, Huboo is providing reliable, affordable and personalized e-fulfilment for a growing number of customers who do not have their own warehouses or operational staff.
Micro-warehouses
"We support online retailers in all shapes and sizes, including in electronics, cosmetics and food, based on our sustainable and people-centric methods," says Van Duifhuizen. The micro-warehouses in the Dutch facility play a key role in this. These dedicated warehouse zones are each managed by a fixed team of employees who have a close relationship with their client and know the client's products well. This minimizes the number of problems and errors. "This also means that they can answer end customers' questions quickly, which enables us to create an optimal customer experience," continues Van Duifhuizen.
Revenue growth
The turnover of the fulfilment centre in Veldhoven, which covers more than 32,000 square metres, has quadrupled in the last five months, which is clear proof that the approach is catching on. Overall, Huboo employs 630 team members across all its locations, which include facilities in Madrid and Leipzig in addition to Bristol and Veldhoven. The firm's monthly recurring revenue (MRR) is £1.7 million. While the financial performance is undoubtedly important, the company clearly also focuses on offering a great employee experience since it is listed as one of the Top 21 Best Places to Work in Europe.
Data insights
Huboo works with custom technology and data insights to provide clients with a complete solution. The software integrates with the most popular sales channels and platforms such as Amazon, eBay and Shopify. The technology enables Huboo to receive and process online orders on behalf of any e-commerce business, in real time. As the orders are processed, Huboo's software automatically updates the inventory levels across all sales channels. Customers can choose to either plug Huboo into their existing e-commerce environment or build their own complete e-commerce operation based on Huboo's software dashboard.