Unilever tests drone delivery service for ice cream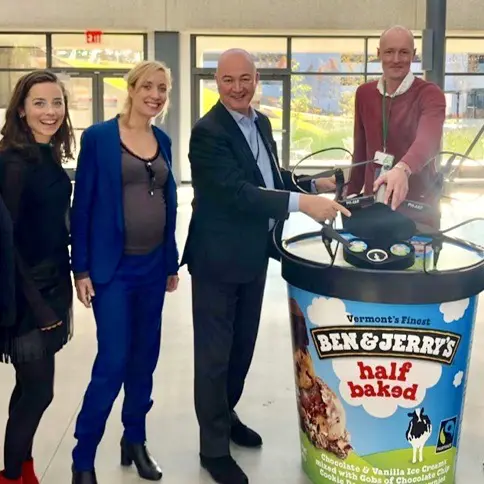 Unilever and Terra Drone Europe are collaborating to test a drone-based delivery service for ice cream. The service is currently only available to residents of New York, according to an announcement on the Terra Drone website.
In a demonstration performed during Unilever's recent annual investor event, Ben & Jerry's ice cream cups were delivered to a pre-decided destination by drone. One of Terra Drone's multi-copter drones had been fitted with a delivery box designed to carry three Ben & Jerry's mini cups (weighing 72g each).
The demo was conducted as part of Unilever's ice cream delivery service called 'Ice Cream Now', which has grown into a huge business worldwide since being launched in 2017. With regulations around future drone flights expected to become more flexible, the multinational consumer goods company is preparing for a drone-based logistics service that will deliver products to more customers, faster.
Growth in drone services
Yuki Ueno, Director of Terra Drone Europe, stated that the use of drones can help to solve serious problems in the logistics field, such as carbon dioxide emissions. "As deregulation progresses worldwide, drone delivery services will also increase," he commented. Terra Drone and Unilever will therefore continue to cooperate in the field of logistics services.