Unilever launches new sustainable logistics train initiative
Unilever announced Green Express, a new initiative to drive more sustainable logistics in Europe. Green Express takes trucks off the road in Italy, equating to an annual CO2 saving of 2,600 tonnes (the equivalent of 260,000 trees). The Green Express train made its first ice cream delivery last week. Green Express is a result of a partnership with Trenitalia and the Italian Ministry for Environment.
As of Friday 5 July, a dedicated line will transport Algida ice creams from the Unilever factory in Caivano, near Naples, 700km to the logistics hub in Parma. The direct connection, linking three lines, means that 3,500 trucks will be taken off the road each year. Other benefits include reducing congestion and potential traffic accidents and an energy saving of 40 million Mega-Joules per year – the equivalent of the annual needs of 4,200 families.
Train as game-changer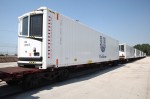 David Beauchamp, Vice President Logistics for Europe said: "Traditionally, goods have been transported by road in Italy but this model is designed to be a game-changer. This initiative is an example of great collaboration with Trenitalia and the Italian Ministry for Environment. We hope that other companies in Italy can also adopt similar rail transportation approaches. This is not just beneficial for the environment but also for costs, we estimate that this will achieve a 6% reduction in costs per year – a win-win situation."
Green Express is part of a wider eco-efficiency programme within Unilever's Supply Chain to support the Unilever Sustainable Living Plan. By 2020, CO2 emissions from Unilever's global logistics network will be at or below 2010 levels. This will overall represent a 40% improvement in CO2 efficiency. So far, progress has seen a 10% improvement in CO2 efficiency since 2010. Unilever's vision is to double the size of the business, whilst reducing its environmental footprint and increasing the positive social impact.