Transport companies in urban logistics not ready for zero-emission zones by 2030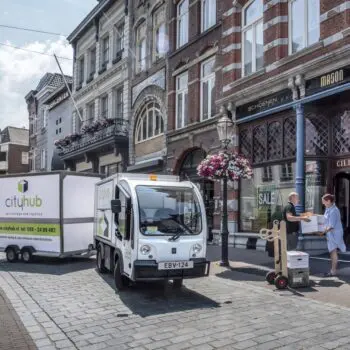 Many transport companies involved in urban logistics will not be ready for the zero-emission zones that will be introduced in dozens of Dutch cities from 2025. At present, almost 40 per cent of these companies are not even planning to switch to electric vehicles, according to research by ABN-Amro. The reason is that companies are wary of the high purchase costs and the limited radius of emission-free vehicles. The charging infrastructure is also a limiting factor.  
The report 'High thresholds impede electrification' makes it clear that just under 40 per cent of transport companies do not plan to electrify their fleets before 2030: 36 per cent of the companies consider the purchase costs too high; 25 per cent feel constrained by the limited action radius of these vehicles. Also 22 per cent have problems with the limited availability of charging infrastructure.
It is mainly the small transport companies that are not yet ready for the introduction of the zero-emission zones. Almost half of them have no concrete plans to electrify. Among larger transport companies, that percentage is 18 per cent.
Lack of clear regulations
As many as 35 per cent of companies feel that clear regulations regarding the zero-emission zones are lacking. There are big differences between municipalities. In cities such as Amsterdam and Rotterdam almost the entire area within the ring road is being made emission-free for freight traffic while in Zwolle this only applies to the inner city.
This makes it difficult for companies to plan for the electrification of their fleets. It can also lead to unfair competition. Therefore, only 31 per cent of the transport companies indicate that they intend to electrify their urban vehicles before 2025.
While almost half of the companies emphasise that the government has the greatest responsibility for the transition to emission-free transport, more than a third believe that there are no clear regulations. In addition, 35 per cent state that electric trucks are still too expensive, despite the subsidies. 22 per cent believe that subsidies are also needed for the charging infrastructure.
National policy
Because many businesses are still in a state of uncertainty, ABN-Amro believes it is important for a national policy to be drawn-up and the preconditions for zero-emission zones – such as charging infrastructure and subsidies – be realized on time.
"To be ready in time, transport companies must plan for the replacement of diesel vehicles and must optimise their logistics processes. With the introduction of zero-emission zones, it could be more cost-effective to outsource logistics. In addition, cooperation, pooling and transhipment of goods on the outskirts of the city could make urban distribution more efficient," says David Bolscher, sector analyst transport and logistics for ABN-Amro.
Bolscher believes that a national policy for councils and government will help entrepreneurs to make long-term investment plans for electrification. In addition, these bodies need to make the transition feasible and affordable and must invest in increasing grid capacity and expansion of the charging infrastructure, he says.