Trailer manufacturer Krone offers customer real-time Estimated Time of Arrival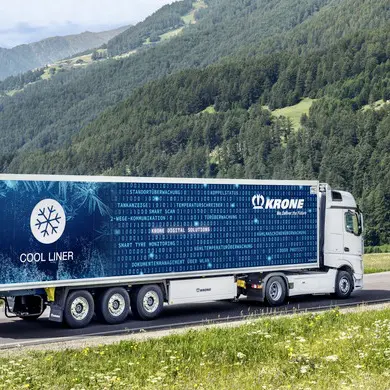 Krone Group is to offer its customers real-time integrated data services. Thanks to a strategic partnership with Shippeo, the German commercial vehicle manufacturer claims to be the first to provide its customers with real-time Estimated Time of Arrival (ETA) information.
The real-time ETA information will give Krone Group customers all over the world access to highly accurate and reliable delivery information, made possible by a machine learning algorithm that takes more than 200 parameters into account.
"There is a growing demand for trailers with built-in ETA options to manage transport more effectively," says Stefan Binnewies, COO of Krone. "We supply state-of-the-art trailers. The new partnership enables us to strengthen our portfolio of connected services and prepare our trailers to meet shippers' digital needs. We always strive to offer the best solutions available on the market."
Real-time tracking of refrigerated shipments
As part of the partnership, Krone Telematics' temperature sensors are being integrated into Shippeo's real-time visibility platform so that all active users can follow both the delivery status and the refrigeration status of shipments in real time, from a single portal. This makes it easy to prevent the maximum temperatures being exceeded and also supports electronic delivery documentation.