Tracing is crucial in COVID-19 vaccine distribution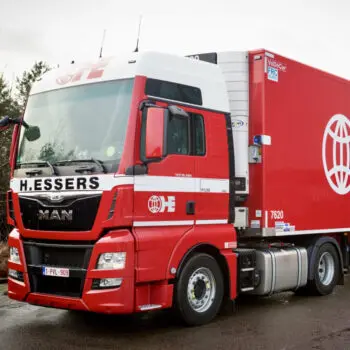 Now that a number of coronavirus vaccines have been approved, the distribution operation is in full swing. It is a mammoth task with numerous challenges, and tracing is crucial. UPS Healthcare and pharmaceutical logistics specialist H. Essers are both providing storage and transport for the Pfizer-BioNTech vaccine. "We are excited to be able to contribute our long-standing expertise in the pharma industry to this historic occasion," says Gert Bervoets, CEO of H. Essers.
The Pfizer-BioNTech COVID-19 vaccine is currently being distributed throughout Europe. Pharmaceutical manufacturer Pfizer engaged the Belgian logistics service provider H. Essers for the distribution. In recent years, H. Essers has gained considerable expertise in setting up integrated logistics solutions for the pharmaceutical sector and has been working closely with Pfizer for 15 years.
Over the coming months, H. Essers will be responsible for the primary distribution by road to various distribution hubs and airports throughout Europe. Thanks to its own fleet of 600 secure and temperature-controlled trailers, the logistics service provider can respond very flexibly and quickly, even during extremely busy peaks.
Tracing is crucial
The transit times, 24/7 monitoring and end-to-end track & trace of the transport activities are all crucial in the distribution process according to Danny Hendrikse, Vice President Intercompany Operations at Pfizer: "Temperature also needs to be monitored continuously. In addition, various logistics partners around the world will be involved in the distribution. They will all be connected to Pfizer's global system so that we can check where a particular shipment is at any time."
Strict compliance with the temperature requirements for the vaccine is guaranteed by dry-ice packaging, designed by the pharmaceutical company itself, in combination with H. Essers' high-tech fleet and proven transport processes for pharmaceutical logistics. The logistics company's own control tower can monitor the location and temperature of each trailer round the clock.
UPS Healthcare
The US firm UPS Healthcare has also been contracted to store and distribute Pfizer-BioNTech vaccines throughout Europe. Scott Price, President of UPS International, comments: "Supported by our UPS Healthcare Campus (in Roermond, Ed.) and freezer farms in the Netherlands as well as our European air hub near Cologne, Germany, we are doing our bit by distributing the most important means of helping Europe to eradicate this virus."