The Rise of Social Supply Networks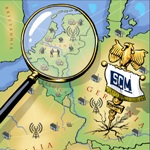 Nowadays, traditional linear supply chains have evolved into complex collaborative networks. The simple supplier-customer relationship is almost a thing of the past and it is not unusual for companies to be supplier, customer, partner and/or competitor simultaneously. As companies realise that they cannot innovate on their own, partnerships are becoming commonplace. Such partnerships are usually based on mutual trust between two individuals which then has to be extended through the rest of their organisations. This leads to the creation of 'social supply networks', both at individual and at company level.
By Martijn Lofvers and Marieke Lenstra
Many companies' operations are still based on Porter's value chain model. However, the traditional linear supply chain has nowadays evolved into a complex collaborative network. Many companies, such as Cisco and Apple, have outsourced much of their production to 'contract manufacturers'. Meanwhile, logistics service suppliers carry out many companies' physical distribution activities.
The key question is whether contract manufacturers and logistics service suppliers are subcontractors focused solely on execution, or whether they also add value and actively contribute to innovation. ASML, global market leader in wafer scanners, manages a regional network of scores of companies, each of whom make a crucial contribution to the end product. This cannot be described as a classic customer-supplier relationship. In fact, such a simple set-up hardly exists anymore. Instead, companies can often be each other's supplier, customer, partner and/or competitor all at once. And with branded goods manufacturers shifting towards direct-to-consumer (D2C), the age-old distinction between business-to-business (B2B) and business-to-consumer (B2C) is fading too.
Social networks
As well as on a company level, but they are increasingly, networks are increasingly developing on a personal level too. Social networks have been around for a long time – just think of the Freemasons or, more commercially oriented, Rotary International which was founded in 1905. The growth of LinkedIn and Facebook since the year 2000 has given people greater insight into personal connections via the internet, resulting in new online social networks.
A survey carried out recently by Supply Chain Magazine into the LinkedIn behaviour of 64 professionals, predominantly working in manufacturing, wholesale or retail, revealed that 92 percent of them were members of supply chain management-related groups. At 64 percent, university alumni groups also scored highly. Just under a quarter of the supply chain professionals surveyed were members of a LinkedIn group related to purchasing or their business partners. A mere eight percent of the respondents indicated that they regularly or occasionally started a professional discussion on LinkedIn, although over one third contributed to such discussions. The overwhelming majority of supply chain professionals appear to be fairly passive on LinkedIn. Notably, the same holds true for purchasers, according to recent research conducted by Maastricht University in collaboration with NEVI, the professional body for purchasing and supply chain in The Netherlands. "For me, LinkedIn has a much broader reach and it is a source of information, resources and ideas," is how Patrick Gunther, director EMEA Logistics at Bausch+Lomb, responded to the online question whether LinkedIn helps professionals to share cross-sector knowledge. "A wide network means that you can always find answers to your questions, and I've used it successfully to recruit people to Bausch internationally on several occasions. But LinkedIn is not the only option; I use many other forms of communication and contact, such as the European Supply Chain Forum, Logistics Management Association, etc."