The impact of the Ukrainian crisis on Europe's gas flow
Wood Mackenzie, specialist in commercial intelligence for the energy, metals and mining industries, has leveraged its proprietary Global Gas Model to provide clients with insights into gas market dynamics since 2006. The model, which uses Aimms' prescriptive modeling technology as one of its components, produces forecasts of global gas flows and prices, allowing Wood Mackenzie's clients to understand the future of the global gas market, identify pricing and contracting trends, and interpret the effects of global events on energy supply.
In recent weeks, Wood Mackenzie used its Global Gas Model to investigate the potential impact of the Ukrainian crisis on European gas flow. Ian Moran, Global Gas Model Team Manager at Wood Mackenzie, explains: "When we were building our Global Gas Model we looked at many different mathematical programming software packages. We wanted something that allowed us to easily set up large scale mathematical calculations, provided good connectivity to our modeling database and user interface, gave us the option of accessing a wide range of different solvers and was competitively priced. Aimms seemed to be the optimal choice. In very simple terms the software allows us to produce raw outputs which are then converted into charts to illustrate the results of our analysis."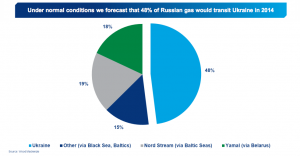 He continues: "Using our proprietary Global gas model, our analysis shows that Europe's dependency on Russian gas is significant.  Europe imports around one third of its gas requirement from Russia with about half of it transiting through Ukraine. The ongoing crisis in the region could mean deliveries of Russian gas to Europe will be disrupted. We used our Global Gas Model, to simulate the crisis' potential disruptions to the European Liquefied Natural Gas (LNG) market by drawing on two scenarios, a two month outage in spring 2014 and a six month disruption during the winter of 2014-2015."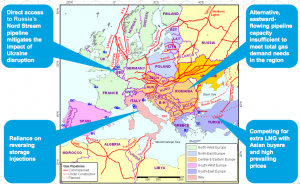 Wood Mackenzie's analysis showed that North Western Europe would feel minimal effects, as Russia's Nord Stream pipeline supplies much of its gas demand. However the impact on Eastern and Southern European gas flows and prices would be more substantial with countries such as Greece forced to rely on gas reserves it has in storage. If disruption was extended to a six month duration over the winter, Wood Mackenzie expects additional Southern European countries like Spain to turn to other sources to meet their gas demand resulting in competition with Asia and Latin America for shipments of LNG which will result in a global hike in the price of gas.
Source images: Wood Mackenzie