Tesla Motors opens assembly and store in the Netherlands
Next to its recently announced its European Final Assembly Plant in Tilburg, Tesla Motors now plans to open a new retail store and service center in Amsterdam this year. Tesla looks forward to bringing many new jobs to the Netherlands, one of its most important global markets.
"Tesla and the Netherlands share a similar vision surrounding energy sustainability and a clean future for generations to come," said George Blankenship, Tesla Motors vice president of worldwide sales and ownership experience. "We're thrilled to base our final assembly, distribution, service, sales and operational headquarters in the Netherlands and look forward to many years of great relationships with our business and governmental partners, and most importantly, our Dutch customers."
Start production in June 2013
To date, reservations from the Netherlands are one of the highest of any country in Europe. Tesla will begin production of its European Model S, the first premium electric sedan, in June with deliveries starting in July. The final assembly point for EU-bound vehicles will be in Tilburg, where operations will be based for distribution, service, parts, training, collision repair and more.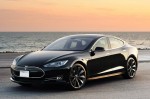 The Minister of Economic Affairs Henk Kamp is pleased with the arrival of Tesla. "Tesla's choice of the Netherlands shows us that our country is an attractive place for innovative companies to invest in. Such investments mean new jobs and revenue, which is why this cabinet continues to invest in the Netherlands investment climate " says Minister Kamp.
Tesla's Amsterdam headquarters will be in the Zuidas district, and the new store will be located in the Museumplein neighborhood. The location of the new service center will be announced in the near future. These new Tesla locations complement existing store and service center locations in Eindhoven
New European Distribution Center
As a key step towards beginning worldwide distribution of Model S, Tesla Motors has started operations December 2012 at its new European Distribution Center in Tilburg, Netherlands. This new facility serves as Tesla's European service and parts headquarters, as well as the final assembly and distribution point for Model S vehicles sold in Europe.
Tesla's new 62,000 square foot facility is centrally located to enable efficient, timely and cost effective operations throughout Europe. Starting this month, the new distribution center will begin stocking parts for both the Tesla Roadster and Model S. In addition to parts warehousing, Tesla plans to utilize this facility for vehicle importing operations, final vehicle assembly and distribution, service headquarters, technical training operations, parts remanufacturing, collision repair and more. The new Tesla European Distribution Center will lead to the creation of approximately 50 jobs in the next few years.
Tesla's decision to locate the new European Distribution Center in Tilburg is the result of almost two years of on-going cooperation between Tesla, BOM Foreign Investments, NFIA (Netherlands Foreign Investment Agency), CBRE Group, Inc. and the City of Tilburg.