Tesla delivers record-breaking number of cars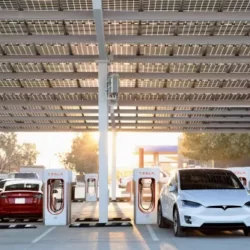 Tesla delivered a record-breaking 237,823 cars in the third quarter of 2021. This achievement is particularly impressive in view of the global chip shortage and the fact that the car manufacturer is still not able to fully utilize its production capacity.
The figures represent a 73% increase compared to the same period in 2020. The company also recorded rises in revenue and profit, even though the average selling price fell by 6%. Tesla is now selling more cheaper models than expensive ones, but says it can barely keep up with demand for its products.
"Our operating margin (28.8%) reached a record high as we cut costs by more than the decrease in the average selling price of our vehicles," the company stated when presenting its quarterly results.
Battery costs are set to fall
Analysts expect Tesla to become even more profitable over the next three years. According to a report in the Dutch financial newspaper FD, the group's production efficiency will receive an extra boost when its new factories open in Austin (Texas, USA) and Berlin (Germany). In addition, the cost of batteries is set to fall.