Taiwan-based chipmaker TSMC shifts production to USA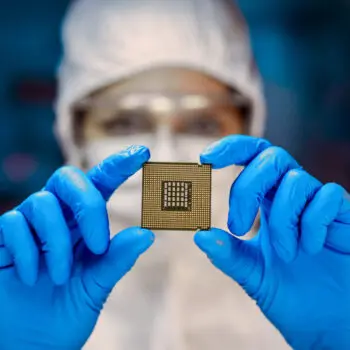 Taiwan-based computer chipmaker TSMC, which supplies to customers including Apple, is putting as much as US$40 billion into building two production sites in the USA. The investment appears to be triggered by the 'chip war' between the USA and China.
According to the Reuters news agency, tech companies Apple, Advanced Micro Devices and Nvidia have already indicated that their chips are likely to be produced in the new US factories. Mark Liu, chairman of the TSMC board, estimates the chip factories' annual revenues at US$10 billion.
The company also happens to be one of the largest customers of chip-machine manufacturer ASML. This Dutch company controls about 90% of the global market and supplies other big-name chip makers such as Samsung and Intel in addition to TSMC.
Tension in US/Chinese trade relationship
The mega investment by the Taiwanese company comes at a time of ongoing disruption in US supply chains and tension in the trade relationship between the USA and China. The establishment of the new production sites – which will be built in the state of Arizona – is seen as a way of relieving the pressure on the USA related to both of these issues.
Despite this sizable investment in the USA, TSMC's research and development centre will remain in Taiwan. The important 3-nanometer chip is already being produced there, according to a report in Dutch financial newspaper FD, despite some concerns – particularly in the USA – about such a crucial product being manufactured in such a highly geopolitically sensitive location. After all, China sees Taiwan as a breakaway province and its military threat to Taiwan makes the US government uneasy.
Chip war spreads to the Netherlands
The Netherlands has recently been dragged into the chip war now that the US is ramping up the pressure to further restrict the export of ASML's machines. ASML has been prohibited from selling its EUV machine to Chinese companies since 2019, but the Biden administration is now urging the Dutch government to ban a less advanced version – the DUV – from being sold to China too.
Meanwhile, TSMC has stated its aim to have the first US site ready to begin production of the N4 process technology by 2024. Construction work is already underway on the second facility, which is scheduled to start producing the more advanced 3-nanometer chip in 2026. The investment is one of the largest foreign investments in US history, according to TSMC.