Sustainability leads to strategic discussions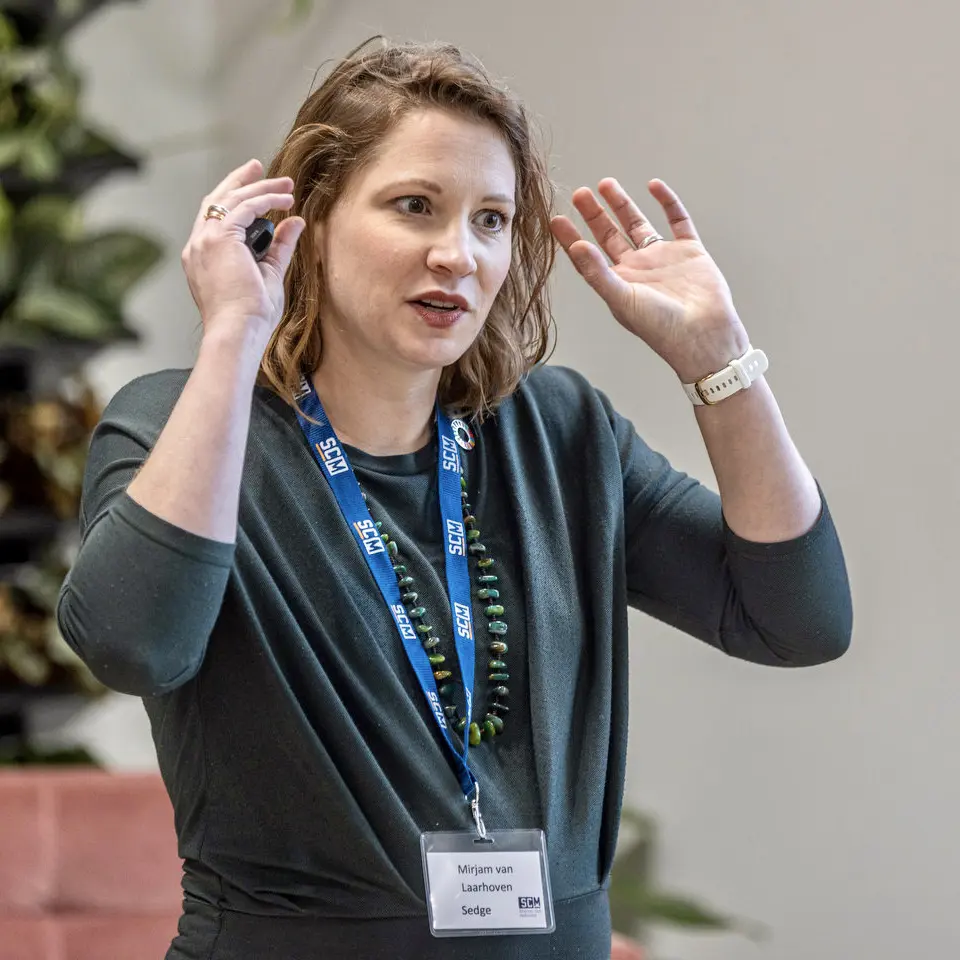 Despite the uncertain economic outlook, sustainability remains high on the corporate agenda. But how do you get the entire company – from senior management to shop floor – to work more sustainably? During the Sustainability Workshop organized by Supply Chain Media at Moonen Packaging, supply chain executives experienced how to transition towards more sustainable operations in nine steps. "Companies often need to spend days talking about how sustainability fits into their business strategy."
By Marcel te Lindert
On a scale of 1 to 5, the workshop participants rated their own personal sustainability performance with an average of 3.4, which was higher than how they rated the sustainability performance of their employer organizations: 2.9. "These figures show that we are doing a good job at a personal level, such as separating our waste for recycling and buying locally. But we can make much more impact through our companies. In other words, if we improve our sustainability in the 40 hours we spend at work every week, it will have more effect than optimally separating our waste at home," said Mirjam van Laarhoven (pictured), co-founder of SOW Sustainability.
Together with her colleagues at SOW Sustainability, Van Laarhoven helps companies like Moonen Packaging to operate more sustainably. The workshop participants shared that same ambition, if only because more sustainable operations create benefits for the company. Over a quarter regarded sustainability as making the company a more attractive employer, which is an important consideration the current labour shortage. One in five saw sustainability as giving a competitive edge, while one in eight were keen to get started because they expected customers or governments to start demanding it.
Willingness to pay more for 
sustainability
A few of the participants questioned whether there is actually any benefit in investing in sustainability. Are customers willing to pay a little extra for a more sustainable alternative? Now that supermarket prices are rising, are consumers buying fewer organic products? "Sometimes yes and sometimes no," Van Laarhoven stated. "Whether customers are willing to pay extra for sustainability depends on the target group and the underlying story. People are increasingly quick to spot greenwashing. It's important to clearly explain what you are doing and why."
One issue is whether customers know which products and services are or aren't sustainable. When shopping online, customers often have a choice of multiple payment solutions but only one delivery option, so they don't even have the possibility to make a sustainable choice. "But some companies make a strategic decision to only offer sustainable products. One good example is Lidl, which consciously chooses to only sell eggs from Kipster (carbon-neutral egg supplier, Ed.) rather than from 25 different suppliers."
Fused with business strategy
Most companies are still a long way from making such strategic choices. Van Laarhoven presented a nine-step plan that helps companies to work on sustainability. The sustainability strategy is formulated in Step 6, while fusing the sustainability strategy with the business strategy doesn't happen until Step 9. "That step is very difficult for 80% of companies, because they don't even have a business strategy. And they're often not aware of that fact," stated Martijn Lofvers, Chief Trendwatcher at Supply Chain Media and chair of the workshop.
Roland van Bussel from Moonen Packaging agreed with this observation. At his company, he completed all nine steps, but the last step took the longest. "We spent days in discussion with the board and the management layer below: what is the business strategy, and how does sustainability fit in? Eventually we all agreed on a direction, but we then had to ensure broad support – including among the people who are less interested in sustainability."
The importance of good ambassadors
Van Laarhoven emphasized that the steps don't necessarily have to be completed in that order. For example, if the company realizes early on that it does not have a clear business strategy, it might be better to work on that first. That also makes it clearer how sustainability fits in. "In parallel, you can start thinking about sustainability goals with a team of six to eight ambassadors. It is important that the ambassador team is a very good reflection of the organization. It should include people from management and the shop floor, people from purchasing, production, sales, etc. That's the only way to ensure that the whole organization gets on board."