Sustainability demands attention from supply chain leaders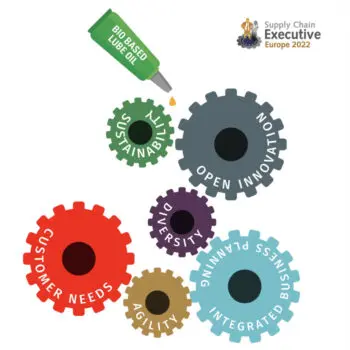 Reckitt's Sami Naffakh heads this year's Top 28 Supply Chain Executives in Europe ranking. How do he and other supply chain leaders view supply chain-related topics and trends? And what skills are necessary to realize their ambitions? KPMG, Inspired-Search and Supply Chain Media – the compilers of the Top 28 – discussed these and other questions during a recent webinar. "The need for resilience will continue to increase in the future."
By Marcel te Lindert
Almost every CEO or CFO mentions the company's supply chain when discussing the quarterly figures, according to a study by IoT Analytics based on analysis of 1,500 global, publicly traded companies' two most recent quarterly reports. Supply chain is the most frequently mentioned topic after inflation and COVID-19, closely followed by uncertainty. This proves once again that supply chain has become a major talking point in the boardrooms of multinationals. "Since the coronavirus crisis, every CEO is aware that their company has a supply chain. As a result, supply chain leaders have increasingly gained a permanent place in those boardrooms," said Johan Smits, Partner Global Strategy Group at consulting firm KPMG.
According to Inspired-Search, supply chain is no longer seen as a black box that only costs money. "CEOs now want to know what's inside that black box. They want to understand what the challenges and possible strategies are," stated Oskar Verkamman who, together with Edwin Tuyn, heads the firm that specializes in the recruitment and selection of supply chain leaders. "At the same time, we see that supply chain leaders are increasingly able to translate supply chain issues into company-wide issues. This has undoubtedly contributed to the improved position of supply chain leaders in boardrooms," Tuyn commented.
Changing vision of supply chain leaders
Supply Chain Media works closely with KPMG and Inspired-Search to compile the annual ranking of Europe's 28 leading supply chain executives. In number-one position in this year's Top 28 is Sami Naffakh, Chief Supply Officer at Reckitt. With supply chain now one of the most important topics of conversation, eyes in the business world are more focused than ever on his and other supply chain leaders' views on supply chain topics and trends.
Those views appear to be changing. According to a Supply Chain Media poll of 36 supply chain leaders, they now see sustainability and resource scarcity as by far the most important long-term trends. In comparison, digitalization and technological changes were at the top of the list two years ago. Smits had an explanation for this. "Many companies accelerated their digitalization programmes immediately after the coronavirus outbreak. Nowadays, sustainability demands the most attention and supply chain leaders are wondering how to address the issues in that area."
Surprisingly low score for reshoring
The reshoring trend received a surprisingly low score in the poll, even though many companies have been considering whether to move production closer to their sales markets in recent years. "I wonder if that will still be a topic when developments in the various markets have normalized somewhat again. Many companies talk about reshoring, but I am not convinced that such plans will actually be followed through," stated Verkamman. Smits added that KPMG has seen an increase in supply chain network redesign projects: "Nearshoring your production enables you to respond more flexibly to trends in your sales market. But if the parts still have to come from the Far East, you're still dependent on long-distance transport for supplies."
Although supply chain leaders see sustainability as the most important future trend, it has so far not been a major topic of discussion in the boardroom. Instead, those conversations are mainly about digitalization, transformation, risk management and cost control. Smits advised supply chain leaders to change that, not least because of all the sustainability-related legislation and regulations in the pipeline: "Companies need to develop strategic plans to anticipate that now. That's partly why we looked explicitly at sustainability policies when compiling the Top 28 Supply Chain Executives in Europe ranking."
The most important skill is motivation
The big question is, which skills do leaders need to deal with all the trends and topics? Recruitment firm Odgers Berndtson conducted a survey into that among business leaders in general, across a broad range of disciplines. The top answer (63%) was the ability to motivate people. This was followed by skills such as resilience (62%), stakeholder management (49%), adaptability (46%) and strategic thinking (44%), with skills in operational transformation (35%) and data science (28%) regarded as less important.
Smits was impressed that motivational skills ranked in top place. "For three-quarters of employees, the decision whether to stay or leave a company depends on whether or not they like the management. That has everything to do with motivation, adaptability and stakeholder management." Meanwhile, Verkamman was pleased that resilience ranked so highly. "That's what everyone needs to deal with all the uncertainty. I recently heard someone say that the pace of change is currently as slow as it will ever be. So the need for resilience will continue to increase in the future."
Surrounding yourself with the right people
The last question to be addressed related to the specific skills needed by supply chain leaders. In Supply Chain Media's poll, resilience & scenario building came in as the top answer, followed by strategic & transformation thinking and strategy execution & alignment. "If supply chain leaders are able to bridge the gap between sales, marketing and finance and translate the trends and developments in those areas into supply chain strategy, they can build a supply chain that can withstand any future challenge. If they fail to make the necessary investments in that, it will result in a suboptimal supply chain and considerable stress for the people involved," Smits said.
Tuyn was disappointed that topics such as employee engagement, diversity & inclusion and storytelling & change management received such low scores. "Those are the skills I want to see reflected in supply chain leaders. Because if you have those traits as a supply chain leader, you can surround yourself with the right people who have all the other skills. That's crucial, because no supply chain leader can tackle all the challenges alone."