Supply Chain Trend Event: let's push ahead! (1)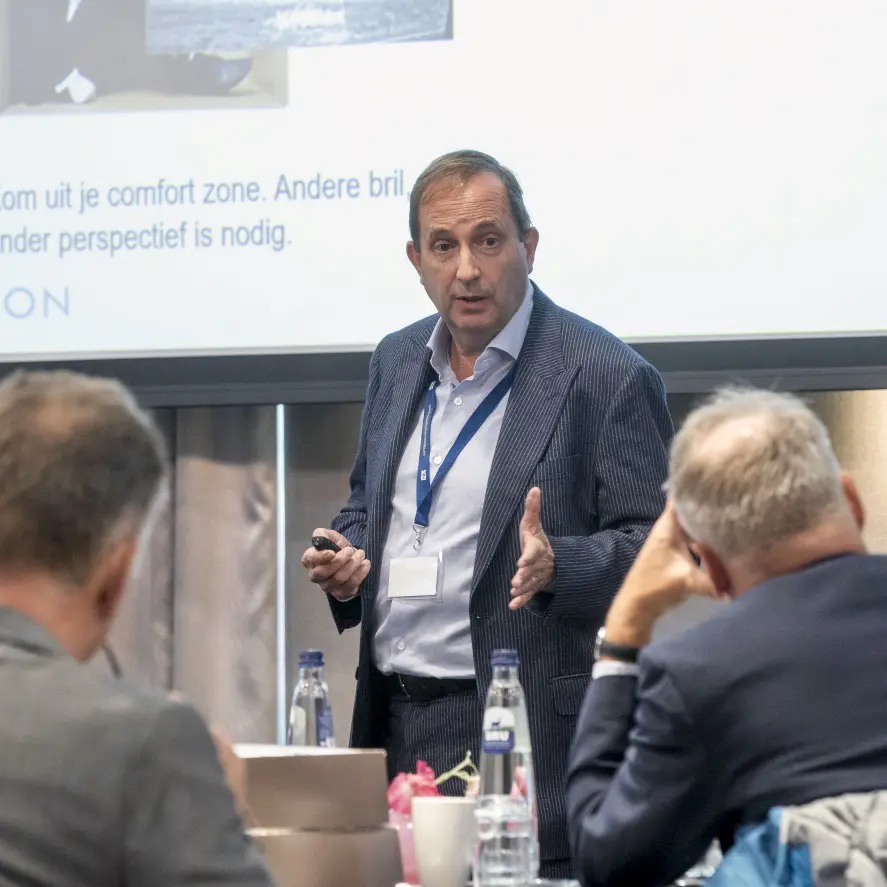 The coronavirus crisis presents not only significant challenges, but also opportunities. During the hybrid Supply Chain Trend Event 2020, six experts conveyed a common message: now's the time to seize this opportunity! Invest in technologies such as artificial intelligence, automation and 'regtech' and don't rely too much on historical data. "We need to look forwards, not back."
By Marcel te Lindert
The coronavirus outbreak presented businesses with a choice: are we going to defend what we have, or should we go on the attack? Many companies chose the first option and are now in survival mode. During the Supply Chain Trend Event 2020, Alfons Willemsen (photo) argued in favour of the second option. After all, attack is the best form of defence. "We decided to examine best practices from the previous crisis. Back then, DSM enlisted the help of some academics and succeeded in modelling the bullwhip effect in the supply chain. That helped the company to make the right decisions," said the partner at Involvation.
Although its competitors were shutting down their factories, chemical company DSM kept them open and even decided to source extra raw materials. "As a result, the company generated €250 million in extra sales and gained market share," stated Willemsen. "We applied this approach in the automotive supply chain, which is currently experiencing extreme bullwhip effects. Even though many businesses are reducing stock to free up capital, we're advising companies to invest in building stock right now. It's a case of 'inventory is king' rather than 'cash is king'."
That is easier said than done, Willemsen admitted. "You have to step out of your comfort zone of statistical forecasts based on historical data, and learn to look forwards instead. What's happening in the upstream and downstream chain, and how can you respond to that?"
Leading indicator
Michel van Buren's message from earlier on in the day was a seamless fit with that of Willemsen. "Forecasting is one of the most important components of S&OP. But how is it done? By looking at the past; decisions are based on historical data. Now, the huge changes in the world around us mean that we should be thinking about the future instead."
Van Buren, who was speaking on behalf of sales & operations planning (S&OP) software vendor Solventure, introduced the concept of a 'leading indicator' – an indicator that tells companies they can no longer rely on historical data. "For one of our customers who is active in the construction industry, a leading indicator is the number of building permits issued worldwide. If that number falls below a certain level, that's the sign that the company has to use other methods."
Van Buren called on companies to look forwards rather than back. This requires them to analyse the data in conjunction with colleagues from other disciplines, translate it into meaningful information and make predictions. "But many companies still work in silos," he said. "Leadership is needed to break them down."
Phasing in and out
Jan Kraaijeveld from Slimstock also advocated entering into dialogue with colleagues from other disciplines, but his emphasis was on stock. "Inventory is a fantastic subject, because everyone has an opinion on it. The Logistics department is concerned about the number of pallet spaces, while Sales doesn't want to have to disappoint customers. In recent years, the outcome of inventory discussions has changed. Whereas the supply chain used to be focused on efficiency and effectiveness, it's now aimed at serving the customer. So who are those customers? What do they want? And how can you optimally respond to that?" he stated.
One of the key issues is the phasing in and out of products. Many companies use rules and statistics to determine which phase of the life cycle a product is in. "But during the coronavirus crisis, all those rules and statistics went out of the window. Some companies even decided to start treating existing products as if they were new ones, because there was no point in analysing the historical data," commented Kraaijeveld. He had three pieces of advice for the audience: set priorities, safeguard supplies and rationalize your product range on time.
Take the lead
Both Van Buren and Willemsen said it was now time for supply chain managers to step up to the plate. "Take the lead. We need leaders who will take action now, bring people together and use the data to help them make the right decisions." Willemsen referred to the coronavirus crisis, which has made supply chain the most important topic of discussion in boardrooms more than ever before. This has created valuable momentum: "Let's not waste this opportunity. Now is the time to push ahead!"
Click here for 'Supply Chain Trend Event: let's push ahead! (part 2)'.