Supply chain start-ups embrace blockchain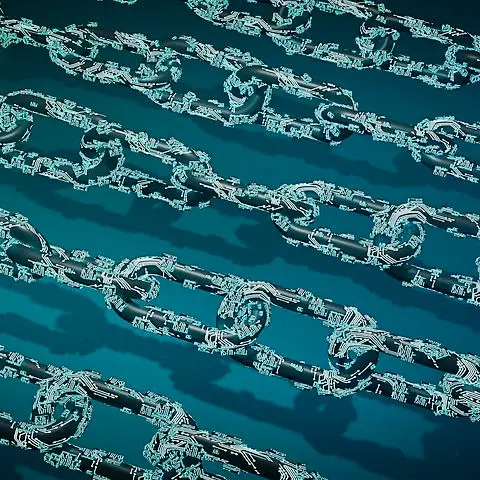 A notably large proportion of the supply chain start-ups in Europe use blockchain technology. Among other things, blockchain makes it possible to digitize documents and securely and reliably share sensitive data with supply chain partners. On Webinar Wednesday, five start-ups – CargoLedger, CargoX, CircularTree, Connecting Food and Minespider – pitched their solutions and then engaged in broader discussion with the online viewers.
By Marcel te Lindert
Back in 2019, Gartner was advising companies to be cautious when deploying blockchain technology in the supply chain. The research firm predicted that 90% of the blockchain projects being launched at that time would show signs of 'blockchain fatigue' around 2023. One reason was the difficulty in developing successful applications, said Gartner. Most projects were not expected to get much further than the pilot phase.
Now, two years later, there are still no signs of blockchain fatigue. On the contrary, the annual Maturity Matrix of European Supply Chain Start-ups reveals that start-ups in the blockchain domain have raised an impressive €100 million in capital over the past two years. "Those investors are not stupid. The fact that they are putting so much money into blockchain technology proves that there are some great opportunities in this area," comments Martijn Lofvers, founder of Supply Chain Media and initiator of the Maturity Matrix.
Eradicating paper
Five start-ups seized the opportunity to pitch their propositions during the latest in Supply Chain Media's series of webinars called 'Webinar Wednesday'. The first was the Dutch company CargoLedger, which is using blockchain technology to eradicate the ever-persistent flow of printed documents in the supply chain. Hjalmar van der Schaaf, CargoLedger's CEO, referred to findings from Supply Chain Media's survey of 106 manufacturing companies showing that 40% plan to invest in IT solutions for end-to-end supply chain visibility.
"Companies want visibility and that's what we offer. Paper creates complexity, is easily lost and therefore creates risk. Companies trust printed documents, but we can create that same level of trust with blockchain technology. It makes data sharing easier and more transparent, plus blockchain makes it impossible to delete data and provides flexibility and efficiency. Our solution enables companies to save 58 cents on every euro they spend on order fulfilment and processing."
Slovenian start-up CargoX offers a similar kind of solution. "We use blockchain for the transfer, tracking and verification of documents by name, including through the use of non-manipulable electronic signatures. We started with the bill of lading in container transport, but since then we have digitized more than 50 different documents," said COO Peter Kern. Among other things, he showed how blockchain can be used to automatically trigger a payment once a bill of lading has been transferred. "Every action is irrefutably recorded, which creates trust without companies having to spend a hundred euros on a courier service to send the printed version of the bill of lading."
Porsche's carbon footprint
CircularTree presented a very different application which uses blockchain technology to record the carbon emissions of supply chains. Founder Gunther Walden noted how many companies are claiming that they want to be climate neutral by 2025, 2030 or whenever: "The problem is that those companies' own carbon emissions only account for a small part of the total. 80% of the carbon emissions come from other areas of the supply chain, but there is not usually any reliable data available on that."
CircularTree's CarbonBlock solution is able to provide that data. It enables business to calculate carbon emissions per product and also to compare suppliers. "Many suppliers are reluctant to share sensitive data like carbon emissions. Blockchain makes data sharing easier and more secure, plus suppliers retain control over their own data based on 'smart contracts' that govern who can and can't access it."
Walden talked about a pilot project including BASF, Motherson and Porsche, among others. BASF supplies the granulate which Motherson uses to produce plastic bumpers. Both partners input data into the blockchain regarding the carbon emissions generated by their own activities as well as by the carriers who transport the granulate and bumpers. "If we do that for all the components, Porsche can ultimately calculate the total carbon footprint of a car," he said.
Without forced labour
The final two start-ups that pitched on Webinar Wednesday use blockchain technology to provide insight into product origin. Paris-based Connecting Food enables all value chain partners in the food industry – from farmers to retailers – to record their product-related activities in the blockchain. That information can then be used to determine the quality of a product and prove that each partner has done what they promised to do. "At the end of the chain, each product can be given a unique QR code which consumers can scan to gain insight into the product journey," explained Coline Laurent, Marketing Manager at Connecting Food. The solution already allows consumers in countries including France and Italy to check the origin of ten different food products.
Meanwhile, Berlin-based Minespider is focused on the mining and metals industries. Ore extraction and smelting companies add data to the product passport that is saved in Minespider's blockchain. "This gives companies insight into the origin of the metals and the conditions under which they have been produced," stated founder and CEO Nathan Williams, who has started to roll out this application in the tin industry. "Tin is a 'conflict mineral' that is widely used in industries such as electronics and automotive. Our OreSource solution allows companies to demonstrate that the imported metal comes from conflict-free areas and has not involved the use of forced labour or the violation of other human rights."
Missed the live webinar?
You can view the recordings of this webinar on-demand on our YouTube Channel here >>
The slide deck is available for download here >>