Supply chain start-up in the spotlight: Minespider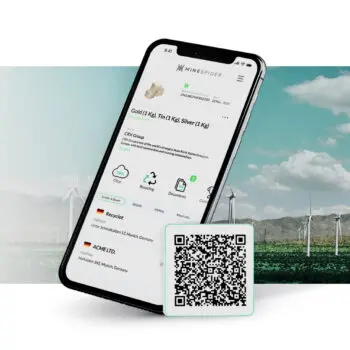 Minespider is a blockchain-based traceability platform for mining and raw materials tracking. The supply chain start-up was founded by Nathan Williams in Berlin, Germany, in 2018.
Based on the vision of a world where tracked, responsible products are the norm rather than the exception, and where no mineral should be sourced anonymously, the company helps actors in the raw materials supply chain capture and share their sustainability data in digital 'product passports'. These blockchain-secured digital IDs contain information such as provenance data, due diligence documents as well as carbon emissions data. Companies simply upload the data to the blockchain and then link it to their products with a QR code.
Product passports
The product passports enable material shipments to be tracked as they move downstream, helping buyers to know where their raw materials come from and under what conditions they have been produced. They are also a way of differentiating and adding value to commodities in the market, enabling companies to demonstrate that they produce responsibly in order to access global markets and investment. As a result, Minespider is helping to build the future of sustainable supply chains by improving traceability, transparency and responsibility from end to end.
The team currently comprises approximately 30 employees, including leading experts in blockchain, regulation, policy, mining and manufacturing. Based on its cutting-edge technology, the company has partnered with high-profile names including Volkswagen, Ford, Renault, Google and Cisco on a wide range of projects focused on the mining and minerals industry. For example, Minespider has already played a role in numerous international projects, including in Rwanda, Brazil, Peru and the Democratic Republic of the Congo.
Recovery of critical raw materials
In 2020, the company received a grant of over €180,000 from the EIT Raw Materials Booster Programme to help mines and smelters comply with the EU Conflict Mineral Regulation which came into force in January 2021. Earlier this year, in a step to support the move towards a more circular Europe, the start-up became part of the consortium for an EU-funded project called BATRAW, aimed at developing new technological processes for the recovery of critical raw materials contained in electric vehicle batteries.