Supply chain software demands continual attention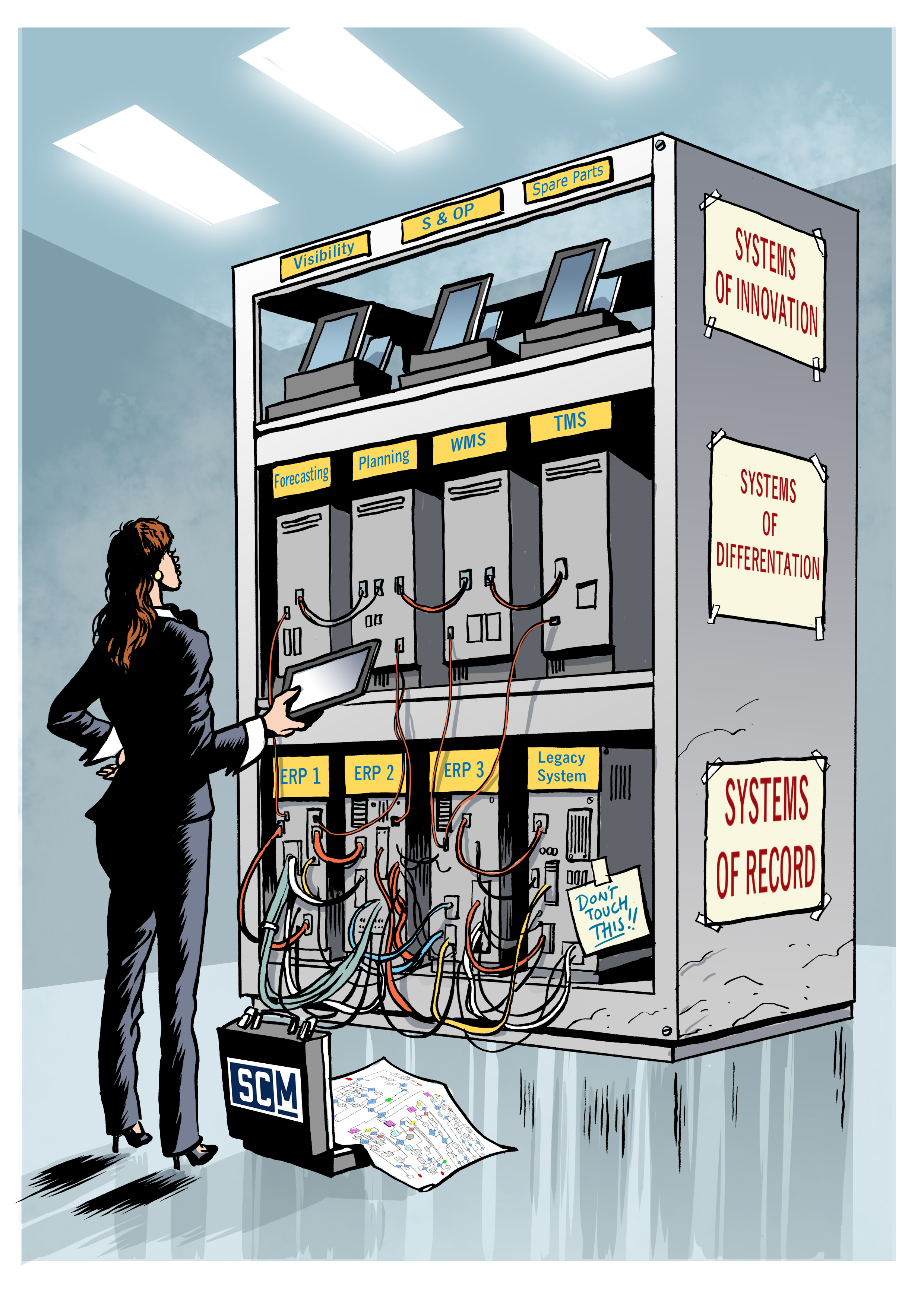 IT supports quest for differentiation and innovation
Four years have elapsed since the introduction of the iPad. that's the same length of time that many larger companies need to develop and globally implement new supply chain software. But can companies and their It systems keep up with the rapid pace of market developments? PepsiCo, ASmL and Agrifac are all investing in supply chain software at different levels.
By Marcel te Lindert
Supply chain software can be categorised into three different types. The 'systems of record' offer the typical ERP functionality that is necessary for all business processes to run flawlessly. The 'systems of differentiation' comprise solutions which give companies a competitive edge in their markets, such as forecasting, planning or advanced warehouse management. The 'systems of innovation' are the latest applications (or 'apps') which form the basis for new ways of doing business and collaborating with customers and suppliers, with the keywords being cloud-based solutions, social networking and mobile applications. Analysis and consultancy firm Gartner calls these three types 'layers', with the systems of record representing the lowest layer and the systems of innovation the highest one. Gartner advises companies to identify to which layer each of their applications or modules belongs and to develop a specific strategy for each layer. The aim is to rationalise, standardise, simplify and modernise the applications from the bottom up. Innovations can be supported by top-down investment in a system of innovation.
Inheritance
In recent years, PepsiCo has made a significant investment in a system of record: SAP. The food and drinks manufacturer and owner of brands including Lay's, Duyvis and Quaker has been using that ERP system since 1 November 2013. "Thanks to SAP, we have reduced our number of legacy systems by 25, but we're still left with a total of 44 companywide," says Allison Thomas, supply chain director Benelux at PepsiCo. That large number is the company's inheritance from the past. Quaker Oats has only been part of PepsiCo since 2001 and Duyvis since 2006. SAP has helped to harmonise the master data and processes in six factories and ten countries. Analysis reveals that 'only' 387 interfaces between IT systems remain, which is 150 less than before the ten SAP modules were introduced.
"Are we late in implementing SAP? It's true that we're later than many other companies. SAP is a comprehensive system which represents a considerable investment. We've grown strongly over the past ten years, particularly in France and Belgium, and that's one of the reasons for us to make that investment now. Furthermore, many of our activities are organised regionally. The freshness of the potatoes is crucial to the quality of our crisps, for example, which makes it necessary to be based close to the source. Hence the need for far-reaching integration was lower than in other sectors, but nevertheless essential in our move towards European harmonisation," continues Thomas. One benefit of a single ERP system is that PepsiCo can automate the large majority of its processes, such as matching supplier invoices with goods received. "For many suppliers and materials, we had various sets of master data in 19 different systems. Now all of that data is held in one single system, within which we've defined 300 different input fields. That demands a lot of attention. In the early days as many as 30 trucks were sometimes left waiting in France, loaded with finished products but unable to depart because someone in The Netherlands, Belgium or Switzerland hadn't ticked the relevant box."
Google-level
PepsiCo had in fact made the distinction between systems of record and systems of differentiation before Gartner issued its recommendation to do so. The ten SAP modules the food and drinks manufacturer has implemented do not include the supply chain planning one (SAP APO). "We're currently using various local applications for that. In the Benelux we use the JDA solution, Manugistics, that offers a number of functionalities which are highly critical for our continuity. We're now exploring the potential of a common European platform for supply chain and demand planning," says Thomas. She adds that SAP is also important for the supply chain because it means that information about inventory and sales now comes from a single source.
PepsiCo also utilises SAP to exchange information with chain partners such as logistics service providers, co-manufacturers and co-packers. The EDI is currently being harmonised throughout western Europe, while a portal ensures that the smaller suppliers remain connected. "Large volumes of data are exchanged in this way and we're already seeing improvements in the quality of that data," states Raymond van der Meer, business information systems manager Benelux.
Although the software is not yet running entirely satisfactorily, the market is not suffering as a result. "We've been able to manufacture, supply and invoice as normal since day one. However, we knew beforehand that certain processes and interfaces could cause problems, not least because time pressure meant that some workarounds were necessary in order to safeguard project continuity. We're now in the midst of an 18-month aftercare project which will resolve all those issues," explains Thomas. She stresses that SAP has also brought a lot of changes for users. "The master data is now managed centrally, for example. However, some data can only be managed locally, such as the routing of a product through a factory. That's why we now also have local data stewards in addition to our central data managers. They're all members of the same 'orchestra' who now have to learn to play together harmoniously."
In addition to a European system of differentiation for supply chain and demand planning, Thomas would also like to implement a system of innovation. "According to Lenno Maris, European data lead, we've defined 300 data input fields and migrated one million records to SAP. Based on approximately 3,000 transactions a day, this means that we have roughly half a million data postings daily to help us plan, manufacture and invoice in line with our customers' demands. A Google-level system that can cope with this big data would be a great step forward. I still can't see which location has inventory with a single click."
Critical path
In contrast machinery manufacturer ASML has in recent years invested in a new planning system which, in addition to a system of differentiation, can also be categorised as a system of innovation. After all, a conventional planning system is not enough for the Veldhoven-based company, especially due to its complexity. Each machine comprises close to a hundred thousand components which are supplied through approximately 100 supply chains. The ASML engineers perform around 5,000 redesigns a year which means that extensive changes are made to each machine, even during the production phase. "This is not only a complex process but also a time-critical one. If we don't supply on time, our customer can't manufacture. That means that we have a huge responsibility, and we can only shoulder that responsibility successfully if we look beyond the first tier," says Harold Bol, director of supply chain planning and configuration management at ASML.
In illustration, Bol describes a situation in which a component is unavailable because a second-tier supplier cannot supply a particular part. "Sometimes we need to provide support because the stakes are higher for us than they are for the supplier. It might be a matter of EUR10,000 sales for them, whereas from our point of view it means that we won't be able to supply a machine worth millions. Of course, not all of our 100,000 components are on the critical path, so we aim to focus our time and energy on the essential ones." With this in mind, ASML started work to develop a new planning concept based on the Icron Technologies planning software three years ago. The planning solution was designed in 2012 and subsequently implemented in 2013. This year has been reserved for the global roll-out of the solution, which has been called Scenario Planning & Optimisation (SPOT). "So far we've been using a number of tools we've developed ourselves, plus Excel, but they lack the computing power to be able to project enough different scenarios. That's a direct result of the rapid increase in data volumes. Not only is ASML growing and selling more and more machines, but the machines themselves are also bigger and increasingly complex. SPOT enables us to include many more variables in our calculations and also to assign more or less priority to those variables as necessary."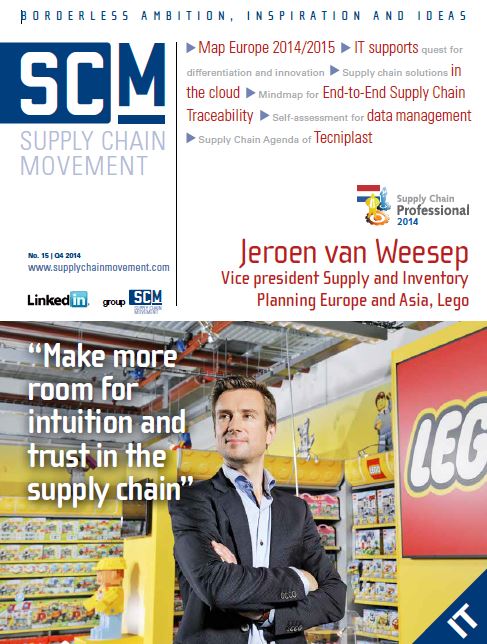 This article was first published in Supply Chain Movement Q4 – 2014
Subscribe on tablet to read the full version>>
or