Supply chain innovation starts with imagination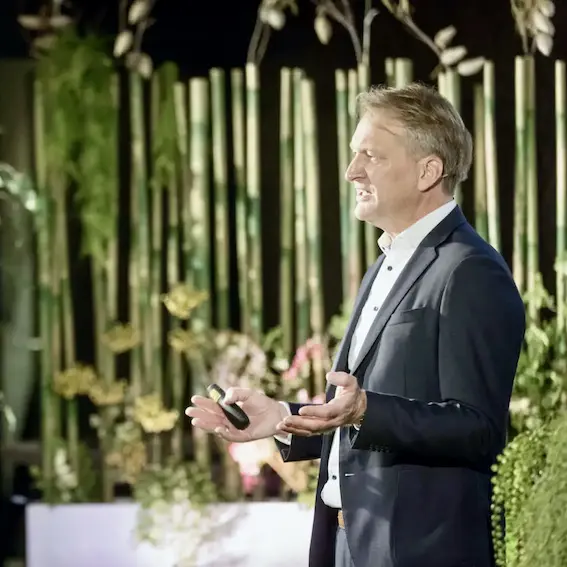 In the past year, more and more companies have realized that they urgently need to innovate their supply chain. But how should they go about that? During inNOWvate Supply Chain Event, chief trend watcher Martijn Lofvers of Supply Chain Media explained that innovation starts with imagination. A new knowledge bank called SCM WisDome offers the necessary inspiration: "SCM WisDome helps companies to develop their high-potentials and let them explore new topics."
By Marcel te Lindert
For the past 18 months, we have all been in 'Zoom mode' with an endless stream of video calls. Although this was initially a new phenomenon for many people, German film director Fritz Lang actually foresaw this development almost a hundred years ago; his 1927 science fiction film Metropolis showed people talking to each other via a video link. "That's what you call imagination," stated Martijn Lofvers.
To support his claim that innovation requires imagination, Lofvers referred to the book titled The Imagination Machine, in which the authors Martin Reeves and Jack Fuller show how companies can spark and nurture new ideas. First of all, people need perception: an awareness and clear visualization of their environment. "Combining that with dreaming about a new, different world results in imagination. That's what people use when they picture the world that lies on the other side of a mountain. For a long time, movies like Metropolis were shining examples of the power of imagination, but that role is now increasingly being filled by computer games," stated Lofvers.
Trend compass for supply chain
Supply Chain Media has developed a Trend Compass that helps companies to imagine the future. First of all, they need to understand the impact of megatrends such as globalization, digitalization, sustainability and the current pandemic. Then, it is important to identify the innovation drivers, such as cost, sustainability, convenience and personalization. The relevance of each innovation driver depends on the business strategy: product leadership, operational excellence or customer intimacy.
Next, they need to determine which innovation can make a real contribution to the business strategy. Lofvers: "Nowadays we have access to lots of new technologies, from machine learning to blockchain. The big question is, how should we use these innovations? When do they contribute to success, and when don't they? For example, blockchain can be used successfully in tracking and tracing high-value products, but it isn't the answer to everything. Meanwhile, machine learning is being used successfully in transport planning and avoiding empty trucks."
Knowledge bank featuring machine learning
Rather than looking to movies and computer games for inspiration, supply chain professionals tend to refer to other industry-related content such as articles, which is why Supply Chain Media has brought together all its content in a knowledge bank called SCMWisDome. "Knowledge will become ever-more important in the future. Computers can translate data into information and uncover correlations in the data, creating insight. But what computers can't do is explain why those correlations exist. That calls for wisdom, and that's where humans come in," said Lofvers.
Research shows that knowledge management is important for multiple reasons, including for onboarding and talent retention. "Each supply chain professional can create their own profile in SCM WisDome. Which companies do they want to follow? In which discipline do they want to strengthen their development? SCM WisDome then uses machine learning to recommend articles that they should read. They can search for articles themselves too, of course. Computer analysis of their search and reading behaviour then leads to even better personalized recommendations."
Trained and improved
The first pilot with SCM WisDome at a major consumer packaged goods manufacturer was not an immediate success, because the company wasn't getting the recommendations it needed. "Based on those results, we trained the algorithm better and improved the system," explained Lofvers, adding that a new pilot is currently underway at the world's largest toy manufacturer.
Lastly, SCM WisDome provides not only knowledge, but also insight into how the knowledge bank is used. Among other things, a dashboard shows which topics users search for and the most-read articles. Lofvers: "SCM WisDome can help companies to develop their high-potentials and let them explore new topics. And in the future, once companies have gathered enough data, they might even be able to spot when employees such as demand planners are getting bored so that they can intervene before they leave the company."