Supply Chain Agenda of Hildur Gylfadóttir, SCM at Össur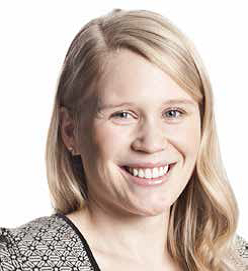 "The supply chain role is to support innovation and still be efficient"
Hildur Gylfadóttir, Supply Chain Manager, Logistics, Össur
By Helen Armstrong
Reykjavik-based Össur is a pioneer in innovative non-invasive orthopaedics. Its range of prosthetic solutions, from artificial limbs and related products such as mechanical knees and feet and silicone liners to a complete bionic system, are designed to improve people's mobility and bring a better quality of life to millions of people around the world. Since the company was founded in 1971, research and innovation has been at its core and it continues to push the technological boundaries further. Its key areas of expertise include the incorporation of silicone, carbon composites, mechatronics and textiles into its products. While R&D remains in Iceland it has operational centers in the Americas, Europe, Asia and it employs around 2,300 people across 18 locations. Hildur Gylfadóttir is Supply Chain Manager, Logistics, based in Iceland with the task of improving efficiencies and helping to drive the successful commercialisation of innovations.
What is your responsibility regarding the supply chain?
"I am based in our head office in Iceland where, as well as R&D, we produce prosthetics which is about 50% of our business. I have a supply chain team of ten people and we purchase all the raw materials for production in Iceland. I am also responsible for the export of finished products to our warehouses in Europe and the US, as well as production scheduling and inventory levels in our warehouses."
What is the strategy of the Company (or Division/Supply Chain): Operational Excellence, Product Leadership or Customer Intimacy?
"Our main strategy is to improve people's mobility through innovation. Therefore product leadership is very important but without customer focus there would not be any innovation because we don't want to make products that customers don't need. The supply chain role is to support this innovation and still be efficient. We participate in product development from the moment the business case is approved. We make suggestions over suppliers, pricing, etc. Small things can often make a big difference to the costs. If we don't do this right from the start, the R&D may have gone so far that's too late to make changes, which could be expensive."
What are the main business challenges that drive supply chain projects at the moment?
… Read more …
This article was first published in Supply Chain Movement Q4 – 2015
Subscribe on tablet to read the full version>>
or