Supply Chain Agenda of Alessandro de Luca, SVP at Merck Group
'Real-time communication in order to be able to react fast is key'
Alessandro de Luca, Senior Vice President, Head of Global Supply Network Operations at Merck Group
By Helen Armstrong
The pharmaceutical supply chain requires the right mind-set, real-time communication throughout and clear accountability. For Alessandro de Luca, delivering lifesaving products to the patients brings its own sense of responsibility and urgency. He is in charge of the end-to-end global supply chain for Merck Serono, a division of the multi-billion pharmaceutical giant, Merck. It is one of the world's leading and oldest healthcare companies dating back some 350 years. Its founding family is still the majority owner and its prescription medicines and consumer health products are sold in 150 countries. As de Luca explains, customer satisfaction has to be 100% even when the unexpected happens.
What is your responsibility regarding the supply chain?
"I am responsible for the end-to-end global supply chain for Merck Serono, the group's pharmaceutical division. It involves supply planning, distribution and warehousing, demand planning, country customer service and contract manufacturing operations (CMO) for all brands within the pharma division, which has a turnover of Euro 6 billion per year."
What is the strategy of your division: Operational excellence, product leadership or customer intimacy?
"Our mantra is to be customer centric; to fundamentally engage with the customer and to make sure the customer is always number one. Our aim is to work "As One – one organisation – to Deliver to Patients" which we do via three channels – hospitals, pharmacies and wholesalers. The products that treat diseases, such as cancers and multiple sclerosis, are usually distributed to hospitals, while medicines for cardiovascular disease or diabetes tend to reach patients via pharmacies and wholesalers.
Our second fundamental strategy is operational excellence; to deliver the best Quality and Service while ensuring an optimal distribution cost and cash flow for the company. As pharmaceutical companies increasingly compete with very cost competitive generic products we are all looking to improve efficiency and productivity, although as a leading company of branded products we will never compromise on quality."
What are the main business challenges that drive supply chain projects at the moment?
"As always our first challenge is to is to maintain 100% customer satisfaction yet the requirements of our customers increase every day in terms of on-time delivery, in full, of right quantity, and shorter lead times. We are running several pilots in which we are engaging with key customers and suppliers to improve the end-to-end supply chain. Actually we are trying to re-apply the concept of CPFR (Collaborative Planning Forecasting and Replenishment), which is well-known in the FMCG industry.
Our second challenge is to ensure that the launch of every new product in our innovation pipeline is executed successfully. The pipeline currently contains several medicines in phase 2 and 3 of development that will reach the market in 2017-2018. We have to Ensure that the supply chain is well prepared for it. Forecasting the launch of a new product is always the most difficult part – either you fall too short on production or you end up with too much inventory! The right approach is a mix between empirical data (leveraging our data base of previous launches) and forward looking forecast (with information we gain by engaging with key stakeholders and customers: doctors, pharmacies and hospitals). This gives us a good 80/20 understanding of potential demand evolution.
Our third major challenge is to make the supply chain more responsive and agile. This first step in this journey is to break the functional silos in order to create agility across all areas of the chain. For example, three to four years ago we worked with 25 different 3PLs that was creating a serious fragmentation in the distribution part. We do currently partner with three major ones worldwide and this has enabled us to create a strategic partnership able to synchronise the different elements of the downstream part of the supply chain."
This article was first published in Supply Chain Movement Q3 – 2015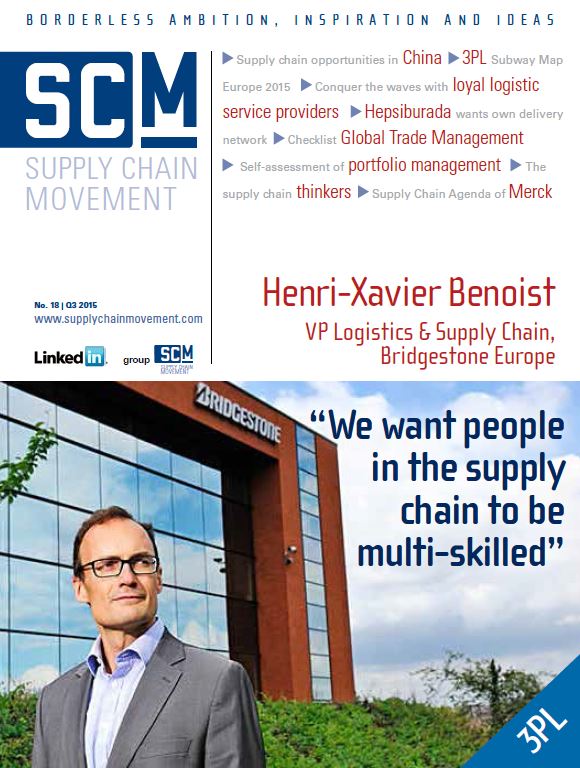 Subscribe on tablet to read the full version>>
or
Subscribe on print to receive the next issue>>