Story selling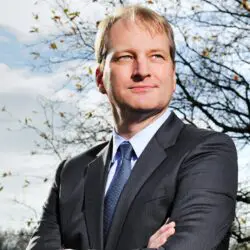 COVID-19 has had a positive impact on confidence in leadership. Just over two years ago, before the start of the coronavirus pandemic, only 24% of teams had faith in their leaders. Now, according to global research by executive search firm Odgers Berndtson, 42% have confidence in how their senior executives are handling the world's disruptions. Although this is still less than half, the researchers regard this as significant progress.
Coincidentally or not, 42% of the 1,100 respondents also say that their senior executives have clear communication skills. However, only 35% possess skills for operational transformation. This seems to indicate that leaders are unable to manage disruptions in global supply chains.
Likewise, only 35% describe their senior executives as 'visionaries'. A visionary person not only has a clear picture of a future development, but can also clearly communicate it. Various academic studies have shown that persuasive and inspirational leaders, like Abraham Lincoln, are good at storytelling.
Martin Koolhoven
At our inNOWvate Supply Chain Event in May, Martin Koolhoven, director and screenwriter of the films Winter in Wartime and Brimstone, held a fascinating presentation about storytelling. According to Koolhoven, if a story does not consist of a series of interrelated dramatic events with a clear goal, it is just a pointless anecdote. He explained that an effective story contains drama, conflicts, emotions and obstacles to be overcome – and there's certainly no shortage of obstacles in today's turbulent supply chains!
During a subsequent workshop for supply chain executives, Koolhoven asked two of them to tell a story based on their own supply chain experiences as if they were telling it to employees. To his surprise, the two executives told their stories very well. Koolhoven's only advice was to introduce themselves into the story as early on as possible in order to make the dilemma personal.
Supply chain transformation
In summary, storytelling is an effective tool for gaining employee trust during a supply chain transformation. However, it is essential to name the precise supply chain disruption or challenge that stands in the way of the transformation. As a storyteller, your aim is to tell the story so convincingly that your audience will pass the message on to others – so in other words, it's a matter of 'story selling'.