Speeding up the S&OP software selection process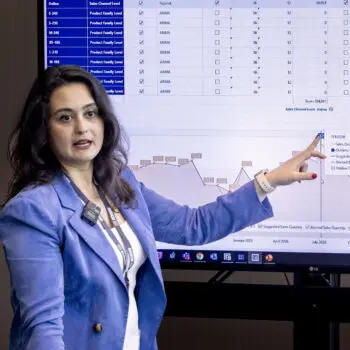 Many European manufacturing and trading companies have the crucial sales & operations planning (S&OP) decision-making process high on their list of things to be improved. In view of this, the first edition of Supply Chain Media's IT Demo Day was focused on S&OP, with the aim of speeding up the sometimes agonizingly slow process of selecting business software. The event was held in the Dutch town of Hoofddorp on 12 September. "It was a good way to spend my time," said one of the participating supply chain directors afterwards. "You have contact with several very well-prepared software vendors in one afternoon."
By Harm Beerens
"We have launched this new event to save people time in the often endless S&OP software selection process," announced Martijn Lofvers, Chief Trendwatcher at Supply Chain Media. "It can take companies more than two years to choose an S&OP software solution. This is unbelievably long and, above all, damaging to the companies themselves, because it weakens their financial performance and competitiveness. Especially in the current times, businesses need to have access to the most innovative tools to stay agile and to keep a firm grip on their costs."
A total of 15 companies signed up for the IT Demo Day, including Effigear, a French-based supplier to the bicycle industry. "I registered because I am looking for a solution to digitize the supply chain," said Jerome Monnot of MJO Consulting, attending on behalf of Effigear. "The company is in a fast-growing market and will regularly be confronted with the limits of its production capacity in the future. Early warning signals will enable them to make informed choices, so I'm looking for a system that brings together all the relevant data."
Data cleaning
The first presentation he attended was given by Conall Kavanagh and Ludovic Lezenven from software vendor QAD. Lezenven showed how QAD's software supports the various steps of the S&OP process: from the preparation phase to create the product, marketing, demand and supply chain plans, to the phase of aligning the plans and analysing scenarios. Lastly, he demonstrated some specific features, including the machine learning module for data cleaning. "Data quality is very important for S&OP, and artificial intelligence (AI) is ideal for detecting deviations," he said.
The next demo was presented by Jean-Baptiste Clouard, CEO of Flowlity, a young French software vendor specialized in inventory optimization. After launching the tool, the Frenchman clicked through and drilled down in a chart showing the demand pattern for a specific product. Attendees saw how the forecast method can be adjusted depending on the product type and how to apply filters such as product type, customer or supplier. Afterwards, Monnot commented on the differences in the demo approaches of QAD and Flowlity. "That immediately tells you something about what kind of solution they offer."
Effective collaboration
The next presentation Monnot attended was by Keyrus, the implementation partner taking care of Anaplan's demo. "Anaplan offers a very comprehensive business planning platform," explained Jonathan Beddows of Keyrus. In the menu structure, participants could see that the software also supports workforce planning, financial planning and integrated business planning (IBP) in addition to S&OP. The San Francisco-based company's software is designed to allow companies and departments to collaborate effectively, Beddows emphasized. His colleague Joris van der Hoeven demonstrated a number of examples of this, including for product lifecycle management.
The fourth presentation came from Icron, a software vendor originally from Turkey and now headquartered in Amsterdam. "We live in disruptive times," stated Vice President Supply Chain Technology Melis Teksan (pictured). "It is therefore important for companies to be able to react quickly to supply chain delays or market developments." She gave various examples of planning scenarios, including one in which the sales department announces a volume discount. How will that impact on sales and on the profit margin? And is there sufficient production capacity to meet the additional demand? Icron's software provides the answers.
Definitely useful
After the fourth round of demos, attendees leaving the meeting rooms were filled with new information and inspiration. In the hotel lobby, there was time for reflection. "I definitely found it useful," commented participant Jerome Monnot. "It struck me that the suppliers were well prepared. I will certainly follow up with some of them." According to him, another advantage of a multi-vendor event is that suppliers are lest boastful: "Vendors are less likely to claim to be the very best at something. They know that you can verify such statements in no time here."