Software selection requires a race plan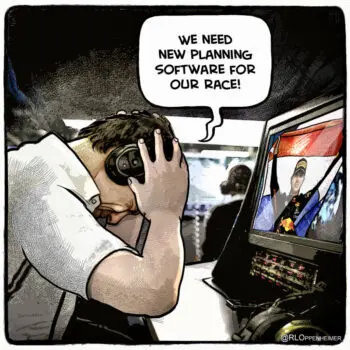 Thou shalt… select planning software in line with thy future
In a go-getting organization in which both planning and sport form part of its DNA, the one-liners and slogans regularly fly around your ears. One such slogan is 'Plan the race, race the plan'. Runners, cyclists and triathletes use this approach to create an action mindset: How will I tackle this race? And which scenarios should I prepare for? But these are also very important considerations for companies when selecting software.
By André Vriens, Managing Partner and Senior Consultant at EyeOn
For most supply chain managers, selecting a new software tool is not an everyday activity. Moreover, the stakes are high for IT, the business and senior management, especially when selecting enterprise-wide advanced planning systems. As a result, any 'failure' is automatically a 'big failure'. All too commonly, performance pressure (we have to cut costs!), a focus on the here and now and a lack of experience or expertise lead to the deployment of an unnecessary sprint – a sprint that often prevents companies from making the most appropriate and future-oriented choices. This is where a drawing up – and actually executing – an effective race plan can save a lot of time and frustration.
Unfortunately, I still see too many clients who, during a software selection process, spend a lot of time and energy on the business case (under the abovementioned pressure) before quickly proceeding to selection and implementation. Once the management has given the green light, the sprint is deployed. It's full steam ahead to specify the requirements, gain a high-level update of the system landscape, draw up a longlist of vendors from Gartner's Magic Quadrant, and then onto the next step.
They fail to spend enough time on creating a good race plan which will set the pace, help them to manage the stakeholders and still make steady and effective progress. Additionally, companies skip the existential discussion of whether the current planning model and the necessary functionalities are still in line with the ever-changing business context. What will be my future supply chain strategy? How can it drive the end-to-end supply chain? What will that require of the system? And as an extra cliché for good measure, 'the devil is in the details' when it comes to a satisfactory system.
Visualize the operating model
The starting point for a well-functioning planning system is that it fits within the framework of the supply chain operating model. Before thinking about innovative options, you must understand the essence of your company's planning challenges and how they have changed in recent years. Ask yourself fundamental questions such as 'Which key decisions are my planners making at the various planning levels?' and 'What is the appropriate organizational model?'. Just like athletes, companies that succeed in turning this into a race plan are significantly better prepared.
What-if scenarios
Secondly, you should force yourself to think about integral scenarios. In the race plan, these can also be called 'what-if scenarios'. In this context, it is essential to translate the senior management's questions into an integral system design. For example, if you invest more in promoting a certain product group, which countries will benefit from a positive impact on margin? And can you handle that with your current capacity? Experience has shown that this kind of scenario analysis places high demands on the software's computational power, so anticipating integral scenarios often forms the core of a good design. The next step is to determine the core functionality. Needless to say, this must be based on the carefully considered operating model and the previously developed integral view of end-to-end supply chain scenarios.
You might think that nothing can go wrong after all this – but nothing could be further from the truth. Just as a race plan for athletes needs to include a diet plan, it's important to stick to the plan to avoid ending up in the 'candy factory': the software to solve all your supply chain problems. Therefore, make sure you evaluate your unique planning challenges and define how many constraints you expect the system to automatically solve for you versus what the planner can handle. In doing so, pay specific attention to the unique exceptions. At the other end of the spectrum, it happens all too often that companies – whether due to ignorance or haste – dismiss exceptions as irrelevant or not applicable to the entire company. These are typically the biggest headaches in an implementation.
Anticipate complexity

Using a race plan to select new software turns it into a carefully considered process in which you go back to the essence of your supply chain processes and critical planning challenges. At the same time, you think ahead and anticipate the complex puzzles you will need to be able to solve in the future. Do this at a steady pace. Don't let software selection become a lengthy process that everyone in the company is allowed to have a say in, but there's no need to turn it into a sprint either. 'Plan the race, race the plan', as the saying goes.
'The Sermon' in Supply Chain Movement is a speech in which the speaker expresses the message he or she has about the field of supply chain management. A sermon aims to teach, to encourage, to correct, so that the recipients may grow in their faith and become strong, mature supply chain professionals.