SodaStream opens its biggest European factory in Tilburg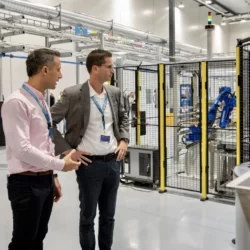 SodaStream has opened its biggest European factory in the Dutch city of Tilburg. The new facility will enable the sparkling water brand, which is part of PepsiCo, to supply all its European markets from a single, central location, while also minimizing its carbon emissions. The new factory has created more than 700 jobs.
SodaStream considered it essential to expand its European production and logistics facilities in order to meet the rapidly growing demand for its products in Europe. In particular, the company has achieved remarkable growth in the Benelux region in recent years. SodaStream transforms tap water into sparkling water in a reusable bottle – and that saves a lot of plastic.
Distribution centre for Sparkling Water Makers
Every year, in collaboration with ID Logistics, the 40,000m2 factory in Tilburg will package and distribute millions of Sparkling Water Makers received from the main production campus in Israel. In addition, the factory will annually produce and distribute millions of carbonated cylinders which create the bubbles in the water.
"The opening of our new factory in the Netherlands is yet another step in SodaStream's vision to change the way the world drinks," says CEO Eyal Shohat. "This new location brings us even closer to our leading European markets. It will help us to further reduce our carbon footprint and strengthen our long-term relationships with local suppliers."
Optimizing the supply chain model
According to site manager Gabriel Shiterit, optimization of the supply chain model will enable the company to further reduce its carbon emissions and carbon footprint. "As a brand, we are constantly looking at how we can minimize our emissions in all areas. The opening of this facility, in the logistical heart of Europe, is another important step that we can be very proud of," states Shiterit.